5 Essential Beginner Guitar Instrumental Songs
Finding beginner guitar instrumental songs that sound good and aren't too difficult to play can be challenging.
In my early days of guitar teaching I used to teach folk melodies like When The Saints Go Marching In, Pop Goes The Wesel and Yankee Doodle.
While a few younger students took to these tunes, the majority enjoyed playing classic guitar instrumental tunes much more.
The following list of beginner instrumental guitar songs has all been successful with countless students over the years.
Each song is from a different genre of guitar music and contains playing tips, tabs, videos and technical studies.
Most of these tunes will only require very small adjustments from the original to make them totally accessible for a beginner guitarist.
The following list of tunes are great for developing chord changing, picking strings, learning scales and most importantly having something cool to play on the guitar.
5 Beginner Guitar Instrumental Songs — Rumble
An instrumental tune does not have to be technically challenging to sound cool, and Link Wray's Rumble is a great example of this.
Rumble is a bluesy composition that only uses 4 beginner open position guitar chords and a descending open position minor pentatonic scale.
The guitar solo at 1.10 is for intermediate players, but apart from that the rest of the song isn't too hard to play.
Click here to view a tab and video lesson for this beginner instrumental guitar song.
5 Beginner Guitar Instrumental Songs – Apache
Hank Marvin is a household name and almost everyone, guitarist or not, will recognize the first few bars of Apache, even if they do only recognize it from a TV commercial.
Apache is a fantastic beginner instrumental guitar song that works in individual and group guitar lessons.
When teaching Apache in group lessons, get one guitarist to play the chords and the other to play the melody.
The strumming pattern may have to be simplified a little, depending on the guitarists skill level.
The 16th note 'galloping' rhythm s a fantastic picking exercise that has helped many of my students progress to the next level.
When teaching Apache to new beginners, I tend to avoid the intro to begin with, as the bends, hammer ons and pull offs can be too challenging.
The chords are all open position too, and the F can easily be changed to F major 7.
Click here to get the tab and notation for Apache
5 Beginner Guitar Instrumental Songs- Minor Swing
A frequent question I get asked; do you have to be an advanced player to learn jazz guitar?
The short answer is no. Any skilled guitar teacher should be able to present accessible versions of jazz standards.
The lead sheet below shows the minor swing theme arranged as a beginner guitar instrumental song.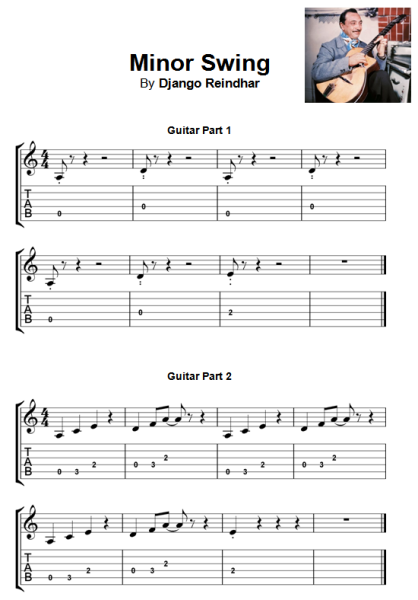 Click here to get a beginner version of the Minor Swing chords.
Minor swing is a great song for learning left hand control, minor chords/cadences and minor triads in single notes.
I have had students as young as 9 who love to play this Django classic.
 5 Beginner Guitar Instrumental Songs – Hide Away
Freddie King was the king of blues guitar instrumentals.
His most famous composition, Hide Away, is one of the easiest to play and is a great blues shuffle and major pentatonic study.
When learning Hide Away, concentrate on one element at a time. For example, learn the melody first before adding the chords.
After playing the main 12 bar blues theme twice, Hide away then moves on to a few different blues shuffle bass lines.
I usually have to remove the chorus with the breaks and the "big E9 chord" as it is too difficult for beginners.
But aside from that, the rest of the song isn't too hard to play and is a great introduction to blues.
Click here to download the PDF tab and notation for Hide Away.
 5 Beginner Guitar Instrumental Songs – Misirilou
Every guitarist I have taught loves the sound of exotic and middle-eastern sounding scales, especially when played on a single string.
Misirilou is is a great for learning the notes of the E string, learning a scale on one string, and learning a middle eastern sounding guitar piece.
The most famous recording of this beginner guitar instrumental is from Dick Dale which features the tremolo picking technique.
Tremolo picking is usually too hard for beginner guitarists. The melody can still be played using normal picking and still sound great.
The diagram below shows an E Double Harmonic minor scale which the melody comes from.

 I hope that you have enjoyed playing and studying each of these beginner guitar instrumental songs.
Perhaps the only songs I have missed out are some classic tunes which also work well with beginner students.
What are some of your favorite beginner guitar instrumental songs? Share your thoughts in the comment section below.