Yesterdays Chord Study for Jazz Guitar
Yesterdays is a 16 bar jazz standard composed by Jerome Kern. The Yesterdays chord progression features minor ii-Vs and a cyclic dominant 7th middle section.
The melody and feel of the song is very similar to the jazz standard Alone Together.
The first four bars are usually played as a minor I VI II V vamp, or a I, II V. The first bars demonstrate a common minor I VI II V substitution, a I bVI II V.
Bars 5 and 6 can be played as only D minor 7. However, jazz musicians also play a D-7/C in bar 6. There are countless reharmonization options for this part of the melody in a solo guitar situation.
The Yesterdays chord study features an abundance of jazz guitar comping techniques that you can use to develop jazz guitar chordal chops.
Practice each chord movement slowly to begin with. Learn the etude in smaller 2-4 bar fragments, and apply the ideas and techniques you like to other tunes that you are working on.
Comping Techniques Used In Yesterdays Chord Study
Each of the harmonic and rhythmic comping techniques in this Yesterdays chord study is discussed full detail in individual articles on this website. Click on any of the links below to find out more about each of the techniques.
Yesterdays Comping Etude
This Yesterdays chord study alternates between three and four note voicings on the four top strings of the guitar.
Sections of the study feature one type of chord. For example, bars 5 and 6 only use quartal voicings. Other sections use a mix different chord types together.
Bars 9 — 12 of the Yesterdays chord study uses pianistic comping techniques, often used by jazz guitarists such as Lenny Breau.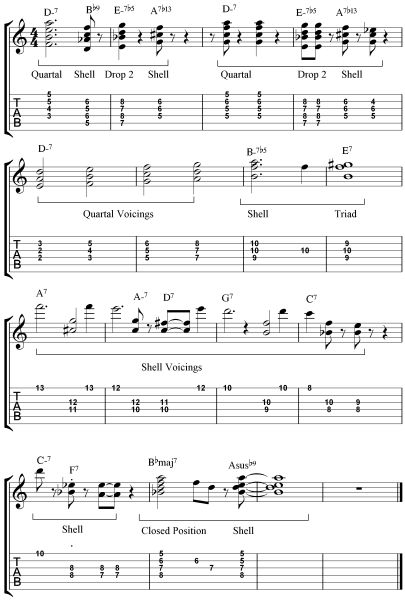 yesterdays