Skype Lessons
Do You Want To Take Your Guitar Playing To The Next Level?
Are you fed up of paying for products that don't offer much in return or maybe going on forums to find vague or overwhelming answers?
There is no substitute for a good guitar coach who can help you reach your goals and become the player that you want to be.
Finding the right guitar teacher can sometimes be tricky, but thanks to programs such as Skype you can take lessons with a good guitar tutor, no matter where abouts you live.
You can now learn guitar with experienced tutors and players without leaving the comfort of your own home through using a free program called Skype and all you need is a webcam.
20% of children study music. 70% of adults wish they had.
Teaching Style
Student's learn with me through studying the Jamie Holroyd Jazz Guitar Method which has had proven sucess.
I aim to demystify jazz guitar in a relaxed, encouraging, and friendly atmosphere, meeting you at your level while breaking down complex aspects into disgestable chunks.
I have taught guitar over Skype to students in America, Asia, Canada, Europe, and Australia.
The screenshots below are taken from live guitar lessons to demonstrate quality and feel of Skype.
The connection quality for the vast majority of the lessons I've taught is very clear and just like a real lesson.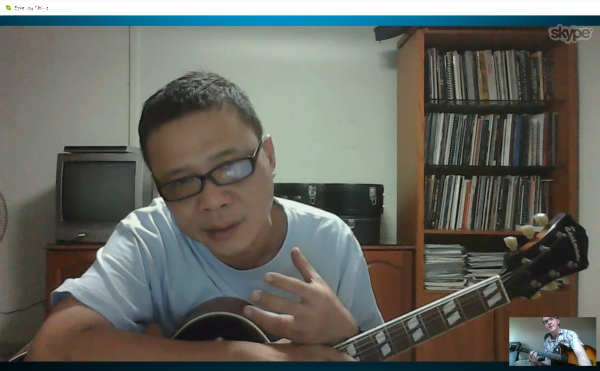 Jamie giving a solo jazz guitar seminar over 7,000 miles away to Sy in Singapore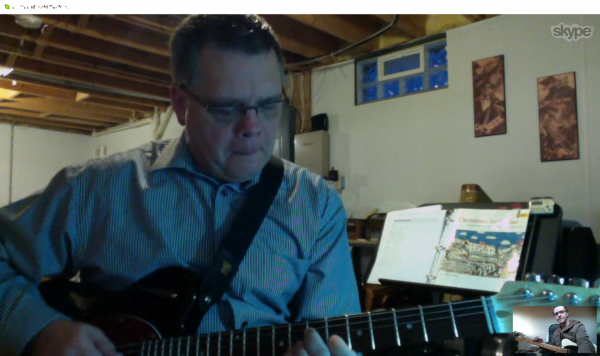 Jamie going through the Satin Doll chords with private student David D in Ohio
Benefits
Study from the comfort of your home
Study at a time that works for you
Save time, money and effort by not needing to travel
Receive the same professional tution you would receive in person
Receive free PDF's (written in notation and tab) with each lesson
Get tution from an qualified and experienced RGT tutor with real world experience
Get free backing files, jam tracks and other relivant materials with each lesson
Free support offered after each lesson via email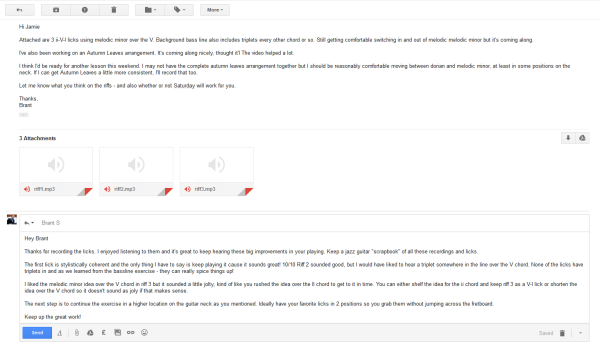 An example of email feedback for assignments that is included in Skype Lessons
How Do Skype Lessons Work?
Once a student and I have exchanged a few emails, we arrange a lesson time. The majority of the students I teach are from other countries, so we are in different time zones. I am located in the West Yorkshire area of England and operate on the GMT London time zone.
After a lesson time is agreed, I respectfully request payment is paid via an invoice before the lesson takes place.
For those that have not used PayPal, I can assure you it is the safest and easiest way to send money over the internet.
During the lesson time I will keep note of all the topics discussed and will email relevant PDF's (written in notation and tablature) to accompany the lesson. In addition, I will provide the student with any backing tracks and other materials that will aid their study. These materials are provided free of charge.
Drop me an email if you would like to arrange a lesson or for any other enquiries.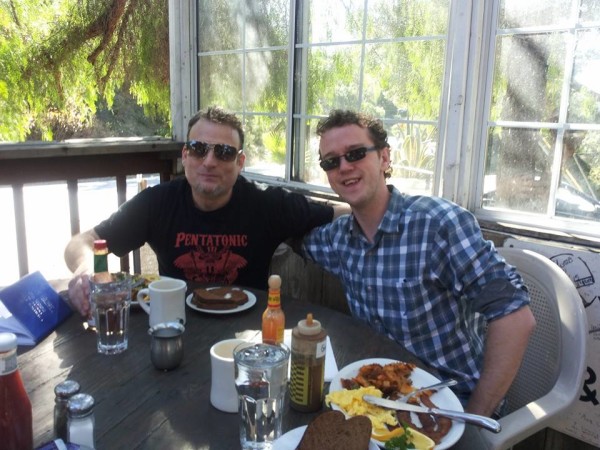 Jamie hanging out with Skype student and friend Joee Corso in California January 2015
What Do I Need To Know About Your Playing?
When sending me an email please include the country you live in and the times you are free to take a lesson if you have a busy schedule.
Any specific goals you may have or problems you feel you have with your playing are well worth mentioning too as they help me personalize the lesson more.
Please also send me a short recording/video to give me an idea of what level you are at. This only has to be a rough mobile phone mp3 or webcam video. Please don't worry about making any mistakes — this is only to give me an idea and will never be shared.
Student Testimonials
"I have taken three of these lessons. They are well organized, clear and supported by great pdfs for continued study. I am so happy that someone will benefit from Jamie Holroyd's jazz guitar knowledge and expertise as a teacher."
Dan W — Private Student
"Friendly, knowledgeable and highly skilled, both as a musician and a teacher. Jamie takes the time to find out what I want out of playing guitar and adapts the lessons and the pace to that and to my skill level. I am over 50, but relative ages are irrelevant – Jamie is a good teacher for any age of student."
– Ian B Guitar Student at RAW Studios
"I've been playing guitar for 30 years, without a teacher – I was impressed with Jamie's youtube vids so I booked a lesson. I was unsure of skype lessons, but it worked out fine – a good listener, Jamie gave me some fresh playing and practice ideas to help me out of a rut."
Toby C – Skype Student
Click here to read more testimonails
What You Need
All you need to participate in a skype lesson in internet/broadband access, a webcam/camera (most laptops have these built-in), Skype (which is free to download), a guitar and a PayPal account – which is safe and free to set up.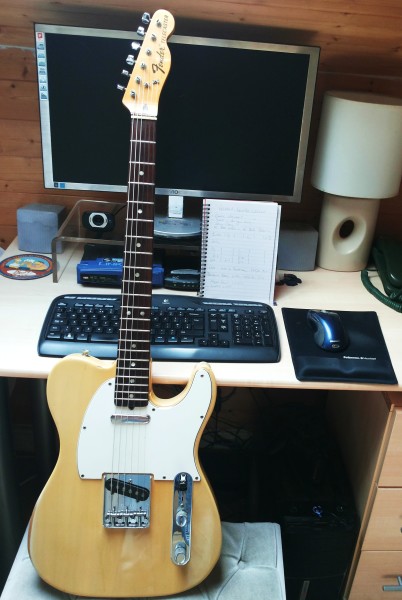 Skype Guitar Lesson Rates
1×30 Minute Skype Guitar Lesson = $25
A PayPal invoice will be sent to your email after scheduling a lesson 
How much is a 30 minute Skype Guitar lesson in GBP?

Learning Jazz and Blues Guitar is Fun
If you would like to arrange a Skype lesson please do not hesitate to contact me with any questions that may have and I will usually reply to you within 24 hours.
While learning the guitar can seem daunting at first, with the right teacher it is made much easier and often a fun and enjoyable process through learning tunes, concepts, and and techniques that make up playing guitar.
If you want to get started with jazz or blues guitar or are looking to take your playing to the next level drop me an email.
Don't have a fast internet connection or the right equipment to take Skype lessons? Then why not check out Custom Jazz Guitar Video Lessons
I also teach in person and from a studio if you would prefer an in person lesson.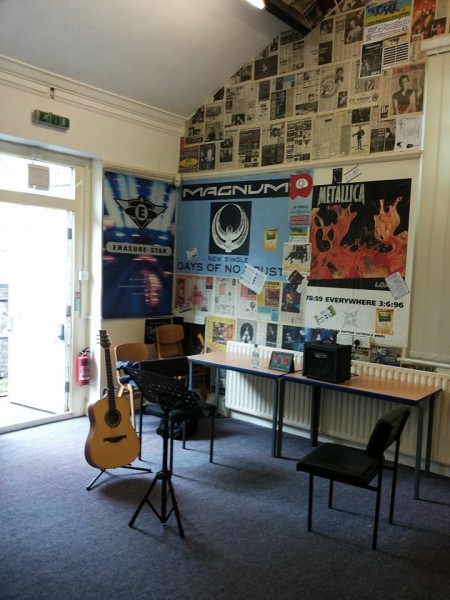 Jamie's private teaching studio in Halifax
Jamie Holroyd's Students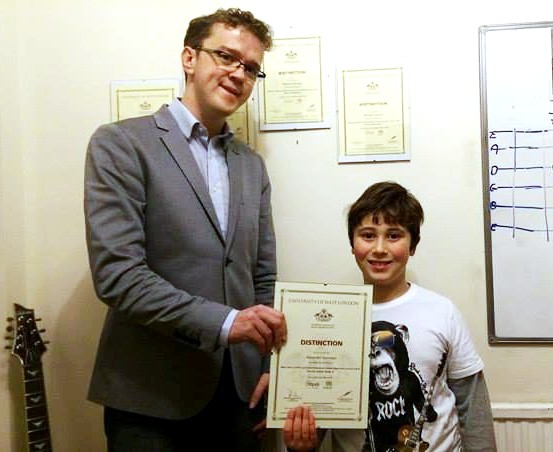 Jamie's 7 year old student, Alexander Santarpia receiving RGT Grade 8 certificate
RGT Guitar Exams
I am frequently asked about developing a structured practice routine and one of the best ways to develop a well rounded practice schedule and motivate yourself is by taking a guitar exam.
I have helped several students to prepare for RGT, ABRSM, Rockschool and Trinity exams and I am currently preparing several for upcoming Jazz Guitar exams with the Registry Of Guitar Tutors.
If you're looking for certification in jazz guitar performance, but don't want to go the traditional University route, check out these exams.
I have had a great experience with them so far with my students, and they are accredited by the London College of Music and cost only a small fraction of what a traditional university course does.
http://www.rgt.org/exams/jazz-guitar-performance-diploma.php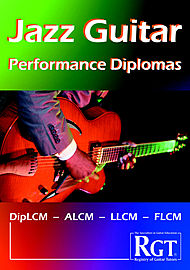 Short Bio
I have taught hundreds of guitar lessons to students of all ages and abilties to help them reach their goals as guitarists. I have also ran and organised educational workshops and given guest lectures at the Leeds College of Music.
Through teaching guitar I have learnt that every student is different so I don't have one set method that works for every guitarist. Instead I plan and deliver customised guitar lessons for each student with a focus on what they want to learn.
I have also helped students prepare for RGT, Trinity and Rock School graded exams.
As a writer, my articles have been published by Guitar Player, Guitar Tutor, and Guitar International magazines and I have released four sucessful educational guitar ebooks.
I hold BA and National Diploma qualifications in Jazz from the prestigious Leeds College of Music, and am also a full registered guitar teacher with the Registery of Guitar Tutors in conjuction with the London College of Music.
Feel free to read my full bio here
Sample Guitar Lesson Topics