Stella By Starlight Guitar Solo
One of the most commonly played jazz standards is Stella By Starlight. Composed by Victor Young, Stella by Starlight is a harmonically rich 32 bar chord progression.
This Stella by Starlight guitar solo is arranged for solo guitar and features an abundance of jazz guitar comping techniques and licks that you can use to develop jazz guitar soloing skills.
Besides being a Stella by Starlight guitar solo lesson, this etude demonstrates a well rounded structure for contrast a jazz guitar solo.
Practice each chord movement slowly to begin with. Learn the etude in smaller 2-4 bar fragments, and apply the ideas and techniques you like to other tunes that you are working on.
Comping Techniques Used In Stella By Starlight Guitar Solo
Each of the harmonic and rhythmic comping techniques in this Stella By Starlight etude is discussed full detail in individual articles on this website. Click on any of the links below to find out more about each of the techniques.
Stella By Starlight Guitar Solo
A variety of different comping techniques are demonstrated in this lesson that jazz guitarists need to play solo jazz guitar.
Perhaps the most important out of all these comping techniques for keeping the groove going at medium to fast tempos, is the comping with bass lines technique.
The etude starts with a 2 feel walking bass line. When performing solo, jazz guitarists often like to start solos with a 2 feel to provide contrast and ease their way in to the solo.
The more conventional quartet note comping with bass lines technique is used in bars 5 — 8.
The next 8 bars feature chord soloing ideas. Most of the voicings feature the root on one of the two lower guitar strings to keep the sound full.
The bridge switches to single line soloing, starting with a minor ii V I lick from my 50 Essential Jazz Guitar Licks eBook.
8th notes are used exclusively throughout the line to provide a fuller sound. Jazz guitarists such as Joe Pass and Martin Taylor often favour longer flowing and busier notes in solo guitar settings to fill the sound out.
The second half of the bridge features a rhythmically interesting chord to bass movement that Joe Pass liked to employ in solo jazz guitar settings.
George Van Eps style inner string movements conclude the bridge.
The final A section features some variations of the melody in a call and response style.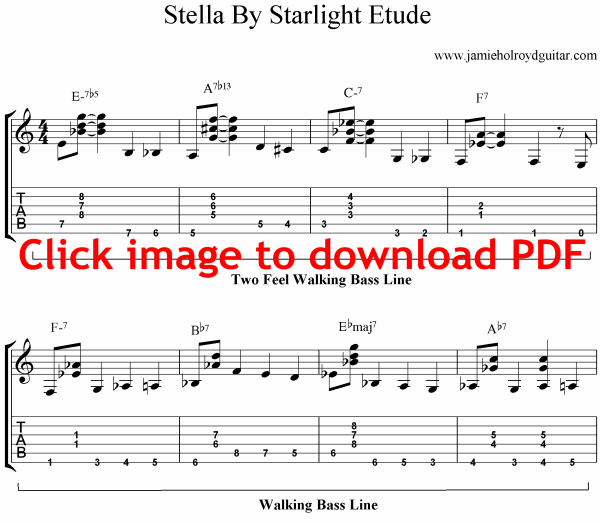 Stella By Starlight Guitar Solo