Preparing For A Solo Jazz Guitar Gig
Since my recital practice series is on a break until the New Year, I thought sharing some tips on how I've been preparing for my first solo jazz guitar gig on New Years Eve would make an interesting article and give you an insight of what I've been working on that might help you learn how to play solo jazz guitar.
Sooner or later every jazz guitarist plays solo jazz guitar, whether be for an entire gig or just for part of a song, so it's important that we're prepared.
The tips in this article will be helpful for almost every guitarist, but especially those that already know a few chord melody arrangements and want to perform them in public.
If you don't know about creating chord melodies and would like to learn how, I recently published in depth ebook that explains how to do this and many other chord and comping techniques.
The tips I am sharing are in this article  what I've learnt from listening back to recordings of some of my arrangements for the gig.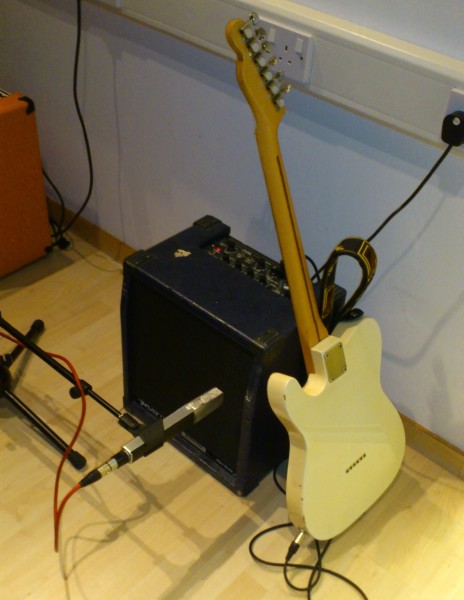 Jamie's solo jazz guitar rig at an LCM recording session
Silence Is loud
"The sound of silence is intense" — Lenny Breau
When playing solo jazz guitar arrangements, fills and chords are added in almost every place where there's a space or between different parts of the melody.
Filling up space within a piece is great and should be part of solo guitar arranging, but every now and then silence can be very effective, either in be in place of a fill or after a fill.
Leaving a few seconds silence in-between phrases gives the audience a chance to absorb what you have just played and creates it's suspense as to what you're going to play next.
More Changes, Less Challenge
Hard to believe I know, but tunes with dense changes are often easier to perform in a solo guitar setting because half of the work is already done.
Try playing two different solo jazz guitar tunes, one which has at least one different chord in each bar such as "All the Things You Are" and one that doesn't have many changes such as "Take The A Train".
Most guitarists will find ATTYA are easier because there's already a lot going on, so simply just playing a walking bass line and 1 or 2 inversions for each chord will sound great.
On a tune like 'Take The A Train', there's a few bars of each chord so you need to find a lot more inversions and longer walking bass lines which is tougher.
For this reason a lot of tunes in my set have quite a lot of changes.
Projection
While this can sometimes be a general performance issue, projecting to an audience seems tougher in solo jazz guitar arrangements because they can be more technically involved.
By not projecting I mean that once we start playing a solo jazz guitar arrangement, our heads go down and our fingers get busy, and we forget the audience.
When you're practicing solo jazz guitar arrangments, try to imagine that there's someone sat listening to you.
This is a tip that the great american jazz guitarist Howard Alden taught me, and has really helped me prepare my solo jazz guitar arrangements.
Different Soloing Approaches
Because we are the only instrument playing, taking a few choruses is often necessary to make each tune long enough to fill out the set. Unless of course, you know 200 tunes as a solo jazz guitarist, but even though, it's good to improvise and explore each tune before moving on.
The great thing about solo jazz guitar playing is that it's the only time where you can switch between so many different jazz techniques throughout a solo.
For example, it's not uncommon for a solo to consist of walking bass lines, chord solos, and single lines.
Using each of these different techniques helps keep the audience interested and helps us get more mileage in our solos. Instead of playing 4 choruses of unaccompanied single line solo's, try place half a chorus of walking bass, then a half a chorus of chord soloing.
This makes playing unaccompanied easier, and gives a chance to showcase all our different jazz guitar comping and single line techniques.
Set List Sample
To conclude the article here's some of the tunes I'll be playing at my gig. Most are these are standards I've known for years and played many times so I feel quite confident with them, yet there's still new things I am constantly discovering in each tune.
Playing solo is already tough so you don't want to be forgetting tunes you half know, so it's worth playing a familiar set. Because you're the only instrument, try to create a diverse set where each song has different feels, keys, and arrangments to keep the audience engaged.
Stella By Starlight
Moonlight in Vermont
Polka Dots and Moonbeams
Someday My Prince Will Come
Stompin' At The Savoy
Giant Steps
All The Things You Are
Auld Lang Syne
Body and Soul
Preparing for this solo jazz guitar gig has been a lot of fun and something I've always wanted to do for ages. I hope that the tips I've mentioned in this article help you in your solo jazz guitar playing.
This style is defiantly something I'd like to do more of in the future; even though it's a tough gig, it's a lot of fun and certainly makes you a better jazz guitarist.
Do you play much solo jazz guitar? If so, what are some of your favourite standards to play in this way?