Guitar Practice Week 9 and 10: Pat Metheny James Etude and 2 Kurt Rosenwinkel Licks
For this instalment of the Recital Guitar Practice Series I have included the last two weeks because I have been primarily been working on the same transcription, so I've included extra examples to make up for last week's entry. This week features a cool triadic etude over the bridge over Pat Metheny James tune.
One tune that I have been working on for my major jazz guitar recital is Segment by Charlie Parker. It's one of his lesser known tunes, and I've only found two jazz guitar recordings off it; one from Kurt Rosenwinkel and other from Jimmy Bruno.
To become a better chord player and soloist I have been working on improvising and comping with triads over Pat Metheny's composition 'James'.
To read the previous entries from this series click here.
Check out the video below to listen to Kurt's version of Segment which I have been transcribing.
http://www.youtube.com/watch?v=Xg4HqlbEqIs
Kurt Licks
Although I have been working on Kurt's entire solo over 'Segment' I thought I'd share a couple of licks that I enjoyed and have got the most from so far for you to check out in your own practice sessions.
The first lick is from Kurt's solo break and uses a cool chromatic enclosure technique where each chord tone note is approached from a semi-tone or fret below, see the example below.
To learn more about enclosing notes, check out this article I wrote on using enclosures over a blues progression.

Kurt uses this technique on over a two Bb minor triads across the guitar neck. I am not quite sure about this fingering yet so feel free to change it.
Also notice that Kurt's last solo lick refers back to this lick at the end of his solo.

Approaching chordal tones from a semi tone or fret below is a classic jazz technique and should be part of every jazz guitarist's bebop vocabulary.
Try applying this technique to the other different chord types. You can also experiment with approach each note from asemi-tone or fret above too. Here's the last lick that I've been working on from Kurt's solo.

James Etude
For my minor jazz guitar recital at the Leeds College of Music I am working on a Pat Metheny Project where I'll be playing and learning his compositions.
One tune that I've been working on for a few weeks is 'James'. Perhaps the trickiest part of this tune to improvise and comp over is the bridge, so I've been working on a few different ways to play over it.
The first way I've been practicing outlining these changes is using a technique that my great guitar teacher Jamie Taylor showed me which voice leading triads together.
To practice triads over the B section I limited myself to connecting the triads on string sets 123, 234, and 345 first then mixed them all together.
The example below shows how I did this. If you play straight eighth notes the etudes have a very classical sound to them.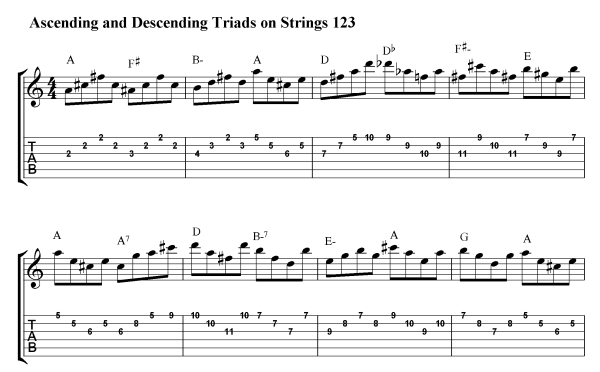 Voice leading the triads on the same string set sometimes causes some tricky fingerings, and although you might not play like this in a performane situation, this limitation forced me to find some cool ways of voicing some of them that I wouldn't have thought of.
Notice the effective voice leading creating in the root movement over the first three chords. The idea of using roots like this reminded me of common rhythm changes lick I sometimes use

I hope that you have enjoyed reading about some of the highlights of my last two weeks practice sessions. The tunes for both the major and minor projects are coming along and I am starting to hear and feel benefits in my guitar playing.