Learn How to Play Blues Guitar Chords Video Lesson
Earlier this week on my Facebook Page I asked what topic readers would like to see a video lesson on and reader wanted to learn how to play blues guitar chords using some jazz voicings. Besides the dotted chunk a chunk rhythms, there are lush jazz voicings that you can apply to your slow blues guitar playing.
Guitarist's such as T-Bone Walker, Gatemouth Brown, and Hollywood Fats were masters at using jazz chords in blues. In today's video lesson I show how to play blues guitar chords by using some common jazz voicings to spice up your chord work.  Click play below to watch today's video lesson
Learn How to Play Blues Guitar Chords Video Lesson
The chart below shows all the chords played in the video over a 12 bar blues progression in the key of A. Notice that the E9 chord shape is the same as the D9, just moved up two frets. As mentioned in the video you can always slide a whole or half step below or above blues chords.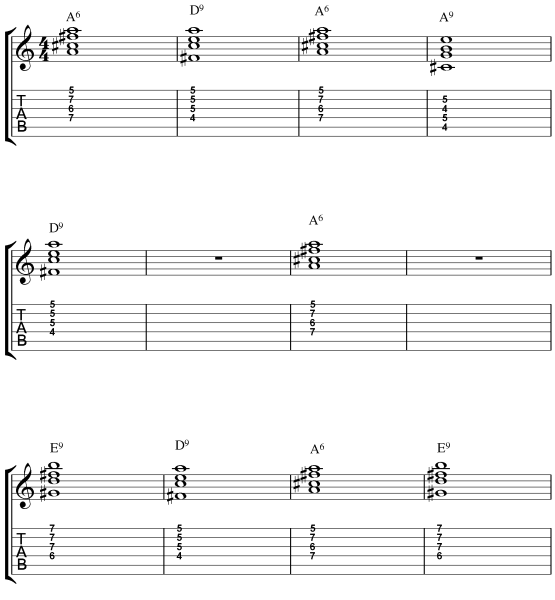 Blues Guitar Chords Rhythms
Slow blows tunes are often subdivided into triplets which give it that 12/8 feel and one way you can make use of this is to accent the triplets in your comping. The chord lick below shows how you can do this by playing constant triplets on the A9 chord before sliding into a D9.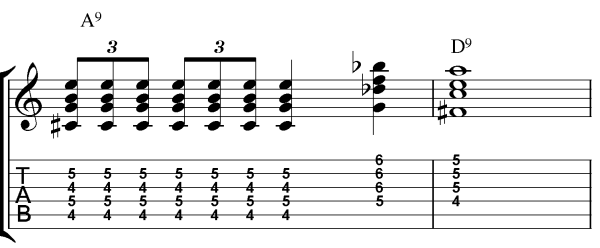 Of course there are many other jazz chords that sound great in a blues setting, but this lesson is to get you started on playing some jazz voicings.  I hope this lesson helps you learn how to play blues guitar chords. What are some of your favorite jazz chords to use in the blues? Share your thoughts in the comment section below.