Guitar Practice Routine: An Introduction
As some readers of this website will know I am currently studying for my BA in Jazz at the prestigious Leeds College of Music in West Yorkshire, England.
This year (September 2012 — May 2013) will be my final year studying at LCM and to obtain my BA Jazz degree I will need to pass three subjects.
I have chosen to major in Jazz Guitar Performance, and minor in Improvisation Strategies and Music Journalism.
The aim of these practice logs is to give you an insight of my practice schedule telling you how I prepare for this important university exam.
If you're learning jazz guitar as a hobby, playing professionally or working towards a performance degree yourself I hope this series will give you a good insight and maybe help with your own practice sessions.
Besides my time in the woodshed I will also be organising rehearsals with my two projects so I will also be discussing effective ways of making the most out of rehearsal time.
I will also need to write up an essay to go with each of my performances so I am planning on using segments from these articles, and some of my music journalism articles will be published on this website.
Isn't great when music college exams combine with the real world?
The major performance module accounts for most of my degree and that will be a 40 minute performance in the BBC venue and my minor performance will be 20 minutes.
Unlike my first two years at LCM there are no rules concerning specific repertoire or line up to what you have to play in your recital.
The line up and material you play is completely up to you.
So what are the projects I am going to be doing?
Minor Recital
While I am not quite sure which project I'll be using for which module yet I will most likely taking my minor exam in duo form with my friend and excellent jazz guitarist Jack Gillen.
Jack is a great guitarist who I have played, gigged and recorded with multiple times since we began playing together a year or so ago.
Playing as a duo is one of the toughest line ups to play in; as guitarists we need to provide good walking bass lines, time, and groove.
But that's fine by me because I love to comp just as I much I enjoy single line soloing and if you can play well in a tough situation playing in larger groups becomes easier.
I love playing in duo's just as much as I do trios, quartets, and quintets and sometimes more if I am playing with a great player because of the directions they can go in.
During my career as a jazz guitarist I've been privileged to play duo's with saxophonists, bassists, singers, and some fantastic guitarists such as Adrian Ingram, Jim Mullen, Jamie Taylor, Jiannis Pavlidis and Pat McCarthy.
So why did I choose a guitar duo?
Well as you can tell from the last sentence most of my duo experience has been with other guitarists so I already have experience in arranging, organising and working with many guitar players so two guitars naturally seemed the right line up.
Plus, us guitar players always seem to end up sticking together some how anyway.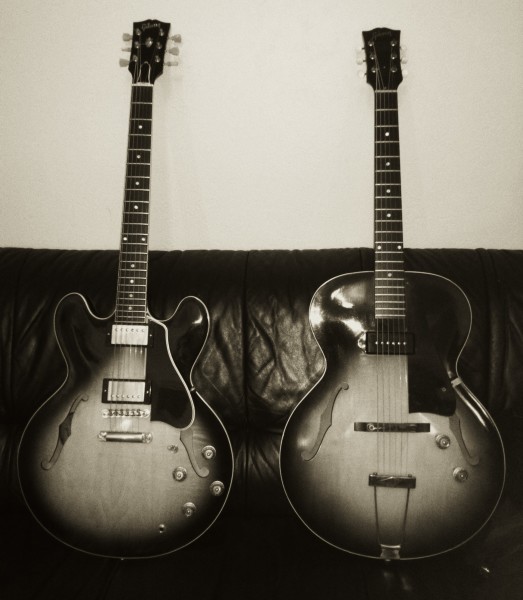 Major Recital
For my major performance I will be doing the majority of the tunes in the classic jazz guitar trio line up, however I will be mixing up the line up throughout the set so that the audience will have a chance to hear the instruments in many different ways.
I will be playing at leas one tune as a solo jazz guitar piece.
I have being working on solo jazz guitar arrangements on and off for a number years in various styles and often including one or two solo tunes in my sets at function gigs so it will be nice to have an attentive audience for once.
I will most likely be doing some tunes as a duo with bass too and I may add piano or sax for a couple of songs.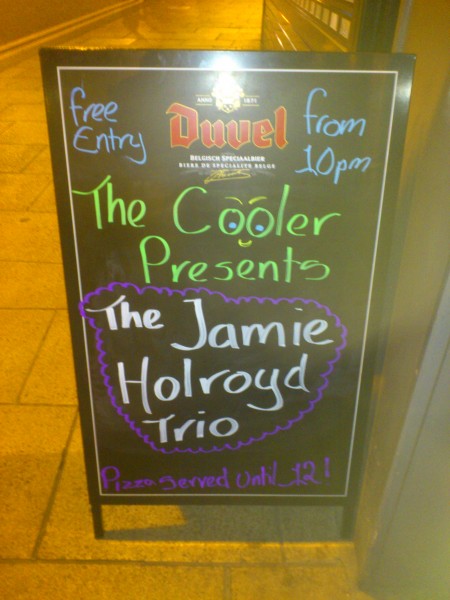 Practice Time
This year is going to be my final and most important year at LCM, not only as a student but it will also be my busiest year as a freelance musician.
With the 3rd year marks accounting for a whopping 70% of the entire 3 year degree all the students are going to be spending every minute in the woodshed as well in practice rooms preparing for their final performance.
Yes, this probably means we won't have much of a social life for the next few months, but we probably won't have this month dedicated time in the woodshed again either.
Being a rhythm section player means that you are in demand by other students so a lot my time will be spent in practice rooms with great musicians.
I am not complaining about this, it will just mean that I will have to organise my time well to make my practice sessions as productive as possible.
This in conjunction with teaching Skype students, creating custom video lessons, writing newsletters and new articles, playing gigs, attending seminars and lectures, finishing my book, teaching in person students, will mean that practice time will be limited, so I'll have to make the most of it.
I will be able to know how much time I have soon when my schedule starts to unfold, but I am hoping to get at least a few hours a day and I will be sharing my practice schedule in articles on a weekly basis.
Tunes
At this early stage I only have a rough idea of some tunes that I would like to include in my set.
Nothing is set in stone yet, because I want to experiment with arrangements and see what works well.
During my career as a jazz guitar performer and teacher I have learnt countless tunes and arrangements so I will be playing some of my favourite tunes that I know like the back of my hand as well learning a few new tunes to keep things interesting.
One thing's for sure at this point though, I won't be using any sheet music for any of my own performances.
To put you on, one tune that I have been enjoying playing at my gigs recently is a lesser known standard called 'Lullaby of The Leaves'.
Some of you might be more familiar with The Ventures arrangement of this, but I'll be playing in a jazz style.
Well for this gig anyway.
I used to play this tune as a medium swing piece, but a while ago I heard my old jazz guitar teacher Jamie Taylor play it as a bossa-nova and really enjoyed it.
The rhythms of this melody work extremely well with the bouncy bossa nova feel.
Oh and it's a minor key bossa nova tune so blues licks sound great too!
Here's a video of JT playing this standard with his quartet, what do you think?