Introduction to Jazz Guitar Improvisation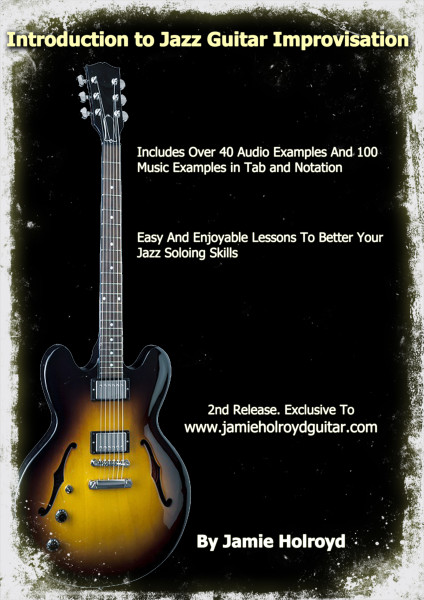 Learning to play jazz guitar can sometimes be an overwhelming and daunting process, but, I honestly believe anyone that wants to play jazz guitar, can. Introduction to Jazz Guitar Improvisation breaks down and demystifies the process of jazz guitar soloing into small digestible chunks so that any guitarist can have fun, no matter what level or musical background they come from.
This book aims to teach you the art of jazz guitar playing by combing technical knowledge with practical musical examples so that the material can be applied in performance situations. The material in this book covers many different aspects of jazz guitar soloing such as scales, patterns, rhythms, licks, sight reading, tone, and repertoire.
After publishing my first eBook '30 Days to Better Jazz Guitar Comping' I have had many emails asking for something similar that focuses on single line soloing. While this book isn't a 30 day series, it can be used in the same way as my first book, but also feel free to take as long as you need in learning the material from each lesson.
This book contains several years' worth of study material organised into 21 compact and in depth lessons that can be used by those that have never played jazz before or those who want to take their existing jazz guitar techniques to the next level
Click Here to View A Few Sample Pages of Introduction to Jazz Guitar Improvisation
When Buying This Ebook You Get
Over 40 Audio Examples to Accompany Each Lesson
More Than 100 Etudes and Examples in Full Notation and Tab
Printable and Clear PDF Format
A Chronological and Structured Order of Lessons
Learning Resources and Material to Keep You Practicing For Months
All for less than 1 Dollar Per Lesson!
Download Introduction to Jazz Guitar Improvisation Now
You can buy the Introduction to Jazz Guitar Improvsation eBook for the introductory price of $14.99 US through the secure site below.
Payments can be made through Paypal with either a money transfer, Debit Card or Credit Card, or if you don't have a Paypal account you can sign in as a guest and use your debit or credit card to make things quick and easy.
To Pay With a Credit or Debit Card Just Follow These 3 Easy Steps
Click "Add to Cart"
Click "Checkout With Paypal"
Click "Don't Have a Paypal Account" (Then enter your information)
Once your payment is processed, you will instantly receive a link to download the ebook, it's that easy.
If you're looking to start learning jazz guitar, or if you can already play and would like some new resources, lessons, inspiration and motivation for the woodshed buy "Introduction to Jazz Guitar Improvsation." For much less than the price of a single guitar lesson you get a lifetime's worth of material to practice.
Lesson Topics Include
Chord Construction
ii-V-I Progression and Scales
Arpeggios
Chromatic Approach Notes
Playing What You Hear
Enclosures
Jazz Phrases
Tritone Substitution
Transcription
Four Note Groupings
Jazz Rhythms
Developing Phrasing
Practicing Jazz Phrases
Sight Reading
Improvising Over #11 Chords
Bebop Scales
Whole-Tone Scale
Rhythm Changes
Learning Jazz Standards
Getting a Jazz Guitar Sound
"I can really recommend it to all guitarists whether jazz players or not. It suits even beginners, but it takes a person very far into the knowledge of music (not only jazz). . This book is a musical pathway for a lifetime. MOST recommended!!! (Thanks again, Jamie!)" – Jeremy Acton