How to Play Triads on Guitar
Learning hip chords solos, solo jazz guitar arrangements, and cool voicings techniques is great, but something guitarists tend to neglect working on is the simplest chord types of all traids. In today's instalment of the series I will be showing you how to play triads on guitar by explaining how they are form, used and applied.
Commonly associated with pop and rock music, triads are the first type of chords that every guitarist learns. Triads sound quite simple alone, but when used in the right way they can be very effective in jazz guitar comping and becoming a better jazz guitarist.
Triads are often used in contemporary jazz guitar playing for both comping and single line soloing and are very apparent in the work of jazz guitarists that take some influence from pop harmony such as Pat Metheny. When triads are used in conjunction with different bass notes there are infinite possibilities for interesting jazz guitar voicings that are examined later in this book.
A triad is simply a three note chord which consists of the root, third and fifth. There are four triad types; major, minor, augmented and diminished.
Major Triad = Root — Major 3rd — 5th
In the key of C:  C, E, G
Minor Triad = Root — Minor 3rd — 5th
In the key of C:  C, Eb, G
Augmented Triad = Root — Major 3rd – #5
In the key of C:  C, E, G#
Diminished Triad = Root — Minor 3rd — b5th
In the key of C:  C, Eb, Gb
There are three inversions that are used for these triads; root position, first inversion and second inversion. To create a first inversion triad move the bottom
note on the root position inversion to the top of the voicing and to create a second inversion triad move the bottom note of the first inversion triad to the top of voicing, see the example below.
                      Root Position                 1st Inversion                2nd Inversion

Root Position = R-3-5
First Inversion = 3-5-1
Second Inversion = 5-1-3
Like full jazz guitar chords, triads can be used over a II-V-I progression. The next example shows how triad inversions can be applied over a II-V-I in the key of C on the top four strings of the guitar starting with the top three strings.
Take each of the three triad positions and find the closest V chord, and then the closest I chord.
Triad II-V-I's on Top 4 Strings
Once you have got these under your fingers, move them to the other string sets of the guitar and practice them in all 12 keys and start to apply them over tunes that you are working on.
A great way to integrate triads with other jazz guitar chords is to use practice ascending and descending them through harmonized scales. Check out the example below showing all the diatonic triads that you could use over a diatonic G-7 chord.
Diatonic G-7 Triads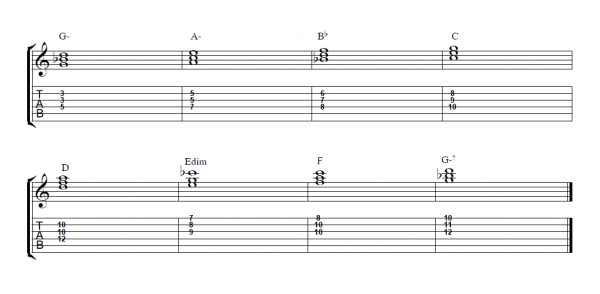 Try these out over a tune that has a minor 7th chord for a long time like 'Milestones' or 'Impressions'.
When you start to combine these with the quartal voicings and shell voicings amongst other chords you already know you have are more than well-equipped for show casing your comping chops.
Notice that even the horn melody of Milestones is harmonized in the diatonic triads and is very effective.
Here's a cool II-V-I chord lick in the key of F for you to try out that incorperates triads and chords. Notice how quick and easy the triads are to grab and the nice contrast they have to the fuller sounding chords.

Purchase the "30 Days to Better Jazz Guitar Comping Ebook" with 20 pages of extra material, lessons and audio examples!
Return to the 30 Days to Better Jazz Guitar Comping Homepage
Do you have a favorite way that you like to use or practice triads in your jazz guitar playing? Share your thoughts in the comment section below