How to Play Sweet Home Chicago
In this blues lesson I will be teaching you how to play 'Sweet Home Chicago' on guitar. Any blues guitar fan will have heard 'Sweet Home Chicago' at some point either from the original recording by Robert Johnson or one of the other countless renditions of the classic tune.
Because there are so many versions of this song, I will be teaching two different ways you can play the opening riff. The first version of the riff the Magic Sam way and the second version is the Buddy Guy version.
Both of these riffs happen at the same part of the intro and through the verse, so you can use either one or even exchange them if you want to.
If you want to learn how to play sweet home chicago as a solo guitar piece like I do at the beginning of the video, check out this article.
Sweet Home Chicago Video Lesson
Magic Sam Way
In the key of E there are lots of 2 note diad (2 notes played together) riffs on the top 2 strings that blues guitarists use. In this example Magic Sam uses a few of these popular shapes to play the riff as seen in the example below. On the original recording Robert Johnson played this riff using a bottleneck so sliding into each of these diads from a half step below gives a similar feel. Check out the video below to see Magic Sam playing this riff.

Buddy Guy Way
The second riff uses the same rhythm figures and is actually originally a BB king riff! Listen to 'Please Love Me' on the Live at the Regal album. Buddy Guy actually admits to learning this shape from BB himself in his hotlicks DVD.
Check out this great energetic performance of Buddy Guy playing it.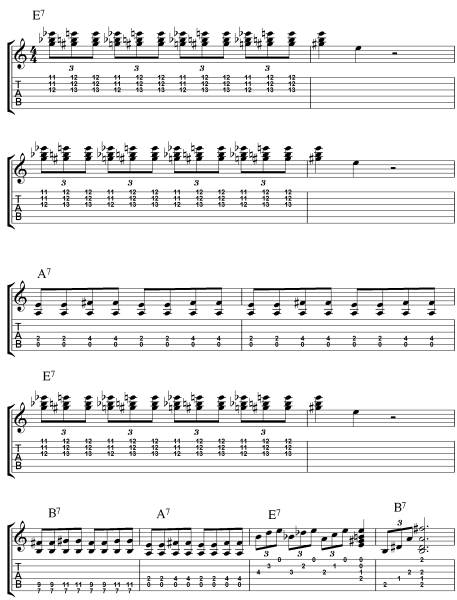 Sweet Home Chicago Riff Structure
Now that we have the riff under our fingers, let's check out where in the form we need to play it. Sweet Home Chicago is a 12 bar blues in the key of E. When playing the riff in the intro, play it in bars 1, 3 and 5 of the progression as seen on the chart below. If you are playing this without any guitarist you can always play some cool chords in between the riff to expand your chordal chops. When the lyrics come in and the verse starts only play the riff between the vocals in bars 3, and 7.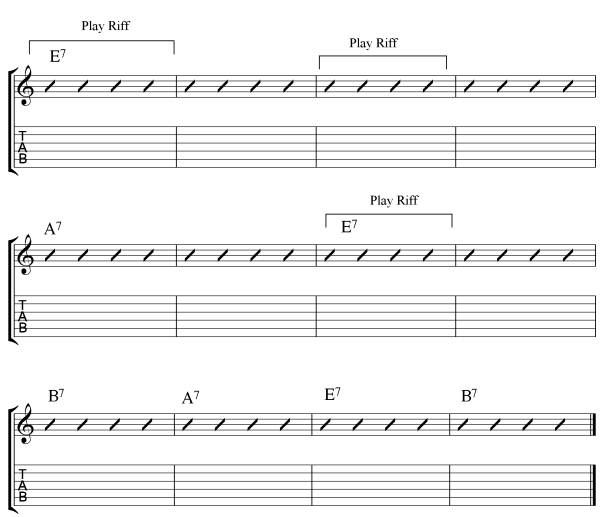 I hope this lesson has helped you learn one of my favorite electric blues guitar riffs. What's your favorite version of Sweet Home Chicago? Share your thoughts in the comments below.