How to Play Johnny Smith Style Closed Position Voicings
So far in this series we've looked at many different chord types such as Diminished, Quartal, Drop 2, Drop 3, and Inner String amongst others but no jazz guitar comping series would feel complete without looking at Johnny Smith closed position voicings.
Along with blistering single lines and clusters, closed-position voicings are closely associated with the jazz guitarist Johnny Smith and are effective tools to use in jazz guitar comping and chord melody arrangements.
Closed position voicings are chords that are stacked together in thirds are called closed position because each note is the smallest interval apart that it can be to form the chord.
The formula for closed position voicings is often R, 3, 5, 7. Due to being stacked this way, close-position voicings have a lush open sound compared to other jazz guitar voicings. The following diagram shows a close position C major 7th next to a drop 2 voicing so you can see the difference.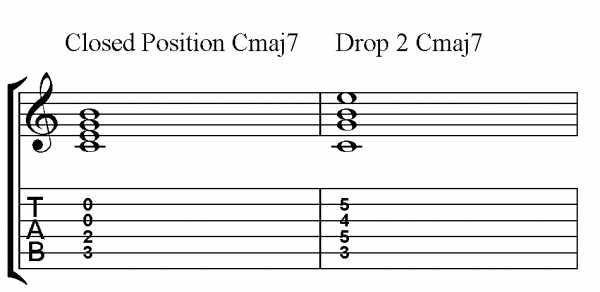 While these voicings are easy to play on piano because of the lay out of the instrument, they are tricky to play on the guitar because most shapes require big left hand stretches.
Depending on the size of your left hand not all the shapes from this lesson will feel comfortable enough for you to play. I suggest playing through them all and just using the one's you can play without too much difficulty.
To make the stretches easier I recommend keeping the guitar in classical position and using a strap so that the left hand is in a relaxed position.
Although they are tricky to grab, these voicings produce a full, lush and open sound that the other voicing's don't and are great to include in your chord vocabulary when learning jazz guitar.
A great way to learn these voicings is to practice them in vertical harmonized major scales. I've written examples out in two keys so you can see how they look on both string sets.
Due to these voicings being hard to grab quickly Johnny Smith mostly used them for chord melody arrangements. Every jazz guitarist should listen to his classic arrangement of 'Moonlight in Vermont' to hear how these voicings sound when used to harmonize a melody.
Johnny Smith played 'Moonlight in Vermont' in the key of C, so see if you can hear which voicings from the harmonized C major scale he uses.
Check out the example below to see you how you can mix close position shapes with 'easier to grab' chords in a I-VI-II-V example.

Purchase the "30 Days to Better Jazz Guitar Comping Ebook" with 20 pages of extra material, lessons and audio examples!
Return to the 30 Days to Better Jazz Guitar Comping Homepage
Do you like to add closed postion chords to your chord melody arrangements? Share your thoughts in the comment section below.