Guitar Practice Routine: Guitar Slash Chords Chart & Further Triplet Practice
After feeling happy about how my first week of practice had gone, I was feeling very optimistic about the second week as I had much more time to work on a guitar slash chord chart and more rhythmic workouts.
With only a couple of guitar lessons to teach, custom videos to make, articles to write, and gigs, I had plenty more time to focus in the woodshed to better my jazz chops, but did I accomplish my goals? Carrying on reading to see.
Click here to view my previous entries in this series.
Further Triplet Practice
I was pleased that I was able to pull last's week's triplet workout off in my one to one jazz guitar lesson at Leeds College of Music, but there's still a long way to go in mastering this technique yet.
The next step in developing last week's routine was to only play the accented triplet with my pick instead of constant triplets.
So instead of the first two bars in the exercise below I was playing bars 3 an 4.

When this felt comfortable, I took the tempo up from 80, to 100, then to 120 which was trickier than I thought as it's harder to play triplets at faster tempos.
When this felt comfortable I began adding chords like in the example below.

Although I might not use rhythms for this exercise in a gig, the exercise is helping me have more rhythmic control and making my time in 4 stronger.
Slash Chord Exercise
One topic that's being on my 'jazz guitar to do' list for a while is slash chords.
Although I learnt about them a couple of years ago, almost every time I see them in tunes they're acting as a dominant 7th b9 chord, so I wanted to devote sometime in being able to play over them in their own right.
In my one to one guitar lesson my guitar tutor Jiannis Pavlidis showed me an easy visual exercise to workout slash chords with ease.
Take a simple major triad and put each possible bass note on it to see what the triad functions as.
There are indeed multiple possibilities with each bass note, some slash chords where just inversions of the major triads, some were modal chords, and for some the bass note didn't even act as the root.
This little exercise took me a bit longer than it should due to working out some of the long chord types in unusual keys with the 'guitar lesson pressure' and all, but it was a great exercise.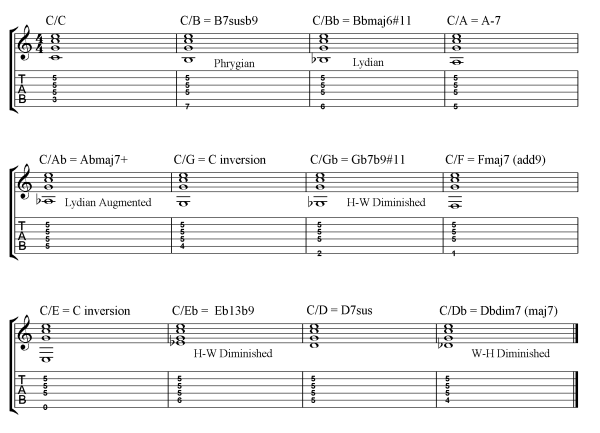 After this we started to check out a Pat Metheny tune and work out what the slash chords were representing.
Maybe I'll do a more in depth lesson on this in the future.
Jam Session
When learning jazz guitar there's no better way to test how well you really know tunes than by playing them with new muscians.
One way that you can do that is by going to a jam session.
Sure, not all jam sessions are great but if you know the musicians hosting the session and there's a good atmosphere, jam sessions can be great fun and a good way of connecting with new musicians.
After a busy Saturday morning of teaching some local students I decided to spend the rare English sunny afternoon in an old fashioned real ale pub listening to and catching up with some great local jazz musicians over a few pints of real ale.
My friend and excellent jazz guitarist Adrian Ingram was playing with his band the Jazz Dawgs who were hosting the jam.
Adrian was playing his trusty Telecaster through a new custom jazz guitar amp that I have just ordered myself so I wanted to hear how it sounded in a live setting.
More about the new jazz amp in a later post though.
Adrian and his band always provide an easy listening and enjoyable set consisting of quirky two guitar western swing arrangements, jazz standards and blues numbers.
After enjoying the first set I was asked to kick off the second set with Adrian and a new upright bassist I hadn't played with before.
As there was a few guests I didn't want to hog up too much stage so I only played two tunes, 'Alone Together' and 'Polka Dots and Moonbeams', both of which I plan to play at my final recital.
As with any jam session, there's no rehearsal so there's always situations situations where you have to improvise and change how I usually play on the spot, but that's fine with me, it's situation's like this that sometimes worth hours of bedroom practicing.
Overall I was fairly happy with how I played, but I wish I would have finished on an up-tempo tune as those two standards together didn't seem to fit the vibe of the rest of the gig, but it was a very enjoyable experience overall.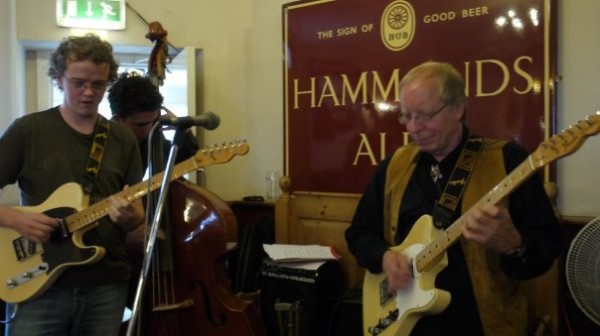 Jamie Holroyd and Adrian Ingram performing 'Jamming with Jimmy' August 2009
That sums up the majority of my practice week for the secound week. Although it's being harder and I've had to force myself to practice at times I can really feel the benefits.
What have you been practicing this week? Share your thoughts in the comment section below.