Guitar Practice Week 4: Learning New Tunes and Evaluating My Own Playing
This week has been the busiest since the start of the new term yet.
Most of my time was devoted to working on my upcoming jazz guitar ebook, teaching students, writing new articles, rehearsing with other musicians and answering emails, however I did manage to devote some time to my practice schedule, just not as much as I would have liked.
I knew that practice time was precious so every hour in-between errands was spent on preparing for my recital and making me a better jazz guitarist.
Learning New Tunes
Being a jazz guitarist means almost constantly working on new tunes, refreshing old ones, or writing your own compositions.
A lot of my time this week was spent on learning two tunes for my major and minor recitals.
As readers of this series will know, I am doing a Pat Metheny project for my minor concentrating on 4 compositions from his legendary album 'Bright Size Life'.
Last week I dissected the harmony of the title track and spent a few hours working out cool chord substitutions and superimpositions and ways to play over the changes.
Those who have played Pat Metheny tunes before will know that you can't exactly use bebop licks because the phrasing doesn't work too well, so I have been working on major/minor pentatonic phrasing and picking up little tricks from Pat.
In the future I hope to write a more detailed explanation of what I am learning for Play Like The Greats section or the Tune Study part of this website, but be warned I won't be covering the 'Pat Metheny Lick', already way too much information on that one!
Besides working on 'Bright Size Life' I have also been working on a Monk tune called 'Evidence'.
This was particularly tricky because of the syncopated rhythms and strange clusters within the melody.
Those who have studied Monk's harmony will know it's angular to say the least, but that's what makes it so distinctive. The tricky part on this tuning was finding efficient fingers on guitar to accommodate some of the wide intervals while not having to jump around the fretboard.
I want to play the song with a sax player so while it was in Sibelius I decided to type up some of the fingerings I found which you can check out.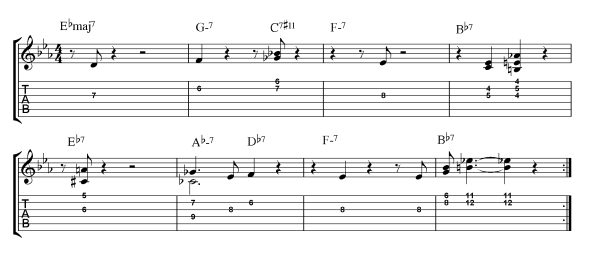 Oh and you need to hear this version if you havn't yet:
www.youtube.com/watch?v=GaOPbaxOMwk
Being Your Own Boss
"I am not teaching your how to become a better jazz guitarist, I am teaching you how to teach yourself to become a better jazz guitarist".
Those are that words that my jazz guitar teacher Jamie Taylor said to me in one of our first lessons together and I find myself using this approach in my own teaching and reminding myself of this concept on a regular basis.
One tune that I have been playing with others regularly and I am considering playing on my final recital is the Denzil Best tune 'Move.'.
Despite the fact that I've being playing this a couple of years I wasn't quite happy with what I was playing, so I decided to try out a few new ideas.
I seem to keep playing the same sort licks which meant I felt burnt out by the 3rd chorus or so, so I wanted to try some new ideas to get out of this.
Since I am playing this tune in a quartet with no piano I decided to use the phase chart exercise and start the solo with simple blues based lines which helped a lot.
Two other things I tried was singing what I played, and the second was looking away from the fretboard which forced me to use my ears more. Through doing these simple exercises I felt much better about my playing in the space of only a few hours.
Evaluating your own jazz guitar playing is a tough thing to do, but it's an essential part of playing better jazz guitar.
I am still not sure if I am doing this  tunein my band yet, there's another up-tempo tune with a similar chord progression called Broadway (not the George Benson version) which isn't quite as fast and I seem to be able to get more going, but we'll see.
Here's some burning playing by Lou Donaldson over Move
http://www.youtube.com/watch?v=Mp0XBroby8c
To view the other articles from my practice log click here. What have you been practicing this week?