Guitar Practice Week 11: Back In The Game
This week marks the last of the first term of my 3rd year at the Leeds College of Music, where I am studying for my BA in Jazz Guitar.
I've had a great term working on material for my new projects, jamming with some great musicians, writing new lessons for the site and getting some good practice done.
I never thought I'd say this, but I am starting to finally feel like a 3rd year guitarist. While there's still a long way to go, I am feeling much more confident about my playing and end of the year performance due to the practice and work I've been putting in.
Incase you missed it, my first jazz guitar eBook '30 Days to Better Jazz Guitar Comping' is now finished and available. Thank you to everyone who has purchased a copy and enjoyed working through it, you're support is much appreciated.
As much fun as I've had putting the book together it's good to have some time to focus on practicing guitar and writing new lessons for the site.
After a few complications with various drummers I have now finally secured a fantastic drummer for my main recital.
My quintet has had quite a few rehearsals now and is starting to sound really good. Most of the tunes have been well arranged, and there's some nice unison themes, some being played with sax and others with piano.
They'll be a mixed line up too, so some tunes will be as a trio, others quartet, and a few as a quintet to keep things interesting for the audience.
Click here to read the previous entries from my practice series.
HJGS Gig
Last week I had the fantastic privilege of performing at The Huddersfield Jazz Guitar Society Christmas showcase.
This was the first showcase gig by the society which consisted of some great playing, drinking and catching up with other musicians. All in all it was a great night of jazz guitar music that ranged from traditional guitar duos and quartets to thriving gypsy jazz guitar groups.
Most of the performers were members of the society but there was a few surprise guests that dropped in, but all the acts were still well organised flowed together smoothly.
Besides seeing some excellent guitarists, there was a good amount of drinking and chatting about lesser known guitarists, nice jazz guitars, and good beers with friends at the society.
Me, and my LCM colleague Jack got up on stage to play two standards as a duet, and for the last tune we were joined by the fantastic guitarist and friend of mine, Adrian Ingram.
Adrian used to be the head of Leeds College of Music in the 80's and 90's so I think it was interesting for the audience to see him play with two current LCM students.
If you live in the West Yorkshire area it's well worth dropping into the Head of Steam in Huddersfield on the first Tuesday of a month for play and pint. A full review and some videos from this gig will hopefully surface soon.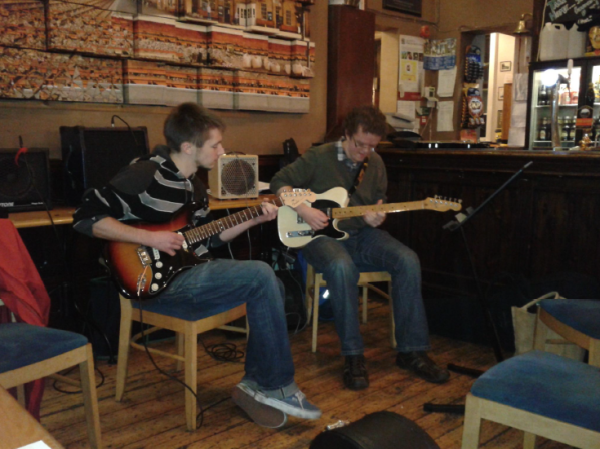 Tune Workout
Learning new tunes should be part of every jazz guitarists practice routine and mine is no different. As readers of this series will know I've been working on a few different tunes this term and last week's practice was no different.
The tune I learnt this week was Monk's "I Mean You". One of my lessons at LCM is a guitar class in which we've been working on Monk tunes for the past few weeks.
When learning this tune I first learnt the melody before the chords. When I play this tune with a band I want to try out a funky scofield type of feel for the solos. I am not sure if this work yet, but I've been working a little bit on playing like Scofield by picking near the bridge pickup and playing more syncopated rhythms which go well with the bluesy nature of the melody and feel of the song, so we'll see.
Goals For January
No matter what level of guitar player you are, goals help keep our practice schedules focused and productive.
So for the New Year I have set two goals: the first is to learn two more Pat Metheny tunes for my minor recital project. Now that I am starting to feel confident improvising over James and Bright Size Life, I want to get my set finished so I can begin rehearsals when I get back to college next year.
The second goal is to finish the Kurt Rosenwinkel solo that I've been learning which is Segment from his album Intuit.
While transcribing long solos can be a challenge, it can be made much easier when you know how to transcribe effectively and break solos down into smaller chunks.
Instead of trying to learn a chorus every day, more often than not I will only focus on 4 bars or so. This way means that I internalize each lick much better and get more mileage out of it.
I think this will be my last practice log entry until the new year. I hope everyone has enjoyed the series so far, but some of my other lesson categories are getting lonely so I thought I'd use this time to write some new lessons over Christmas. What have you been practicing recantly?