Guitar Practice Routine: A Soulful Start
The first week back at LCM was great; catching up and jamming with friends who I hadn't seen for a few months, and I got to work on some great ways on how to practice triplets.
I was asked to do a dep gig for a great local soul band 'Soul Definition', so most of my time was spent learning 30 new tunes.
As most of you will know, learning so many tunes in such a short amount of time is no easy task, but I was able to do a good job with a simple schedule which made me a better jazz guitarist.
Despite practicing for this gig I still managed to get an hour or so each day to work on my personal practice plan which I will be discussing later on too.
Preparing For The Soul Gig
Sooner or later almost every guitarist gets asked to do a dep gig which can be as easy as jamming a bunch of standards you know inside out with friends or as tricky as having to learning a lot of new tunes with little or no rehearsal.
Here are a few simple tips that got me through preparing for this gig:
Keep all the tunes in one playlist or location where you can easily switch between them.
Listen to each song twice before attempting to play it so that the song will be firmly in your ears before you attempt to learn it.
Play through each song by yourself, not just along with the recordings to ensure that you have a thorough understanding of the structure
Through doing these simple steps I felt ten times more confident on stage than I thought it would be, and felt very comfortable with a lot of the tunes.
The band members were all easy going and great musicians to play and hang with who I hope to play with again soon.
A Change Of Plan
For my minor project I was planning on working on a jazz guitar duo project, but upon meeting my teacher Jamie Taylor we decided to change it to an even cooler project that will help me gain more credits.
The new project will be a jazz guitar ensemble consisting of 3-5 guitars, maybe with a rhythm section.
As I am still sourcing material together today it's still early days for this project but I have already kindly received some outstanding guitar arrangements from my friends Dr Matt Warnock and Adrian Ingram.
This project will give me the opportunity to work on arranging, sight reading, and working with a lot of other great jazz guitarists.
Triplet Study
Part of my new timetable includes a guitar workshop where all the jazz guitarists with the same tutor have a group session together.
In this weeks session we looked at switching between different time signatures and feels over the standard 'Alone Together' which was handy for me as I am thinking about playing this tune in my final recital.
The real challenge for most of us came when we began to look at switching from playing in 4, to 3 and then suggesting the different time feels with rhythms.
Being that rhythm is the most important element of practice I decide to make this my week's practice focus, so I worked on some cool triplet accenting exercise ideas with my guitar teacher Jiannis Pavlidis in our one to one to lesson.
Check out the example below for one exercise that I have been working on this week.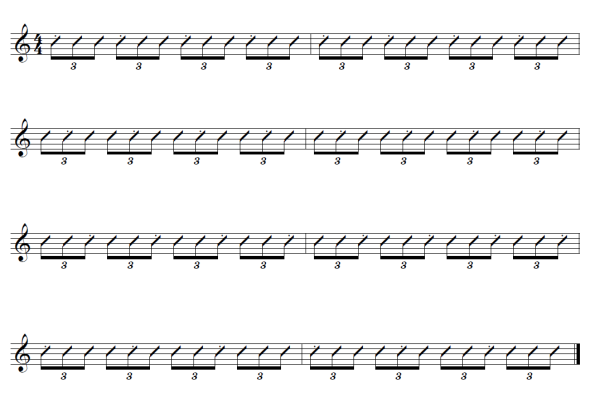 Practice this by using a metronome on all 4 beats to begin with, and playing muted notes on the guitar.
When this feels comfortable play a note for each accented triplet on the guitar while still hitting muted strings for the other rhythms.
I will later be sharing more ideas of how I developing this rhythmic exercise by using it with chords and single lines.
As well as my practicing triplets for my major recital I have also been working on a triplet comping technique I learned from Jamie Taylor.
When we were jamming together in the lesson I noticed he was using a cool triplet in his chords and bass lines, similar to what I've heard Martin Taylor do.
JT kindly showed me this exercise and had cool logical way to go about learning it.
Play the first note of the triplet with your thumb, secound note with your first finger and the third note with your secound finger.
You might be able to use different right hand techniques, but that's what I find works.
Right Hand Triplet Exercise

Once you feel comfortable with the right hand start applying it to full progressions and the next set of strings.
This technqiue still isn't where I want to be yet as I am not used to using my second finger in finger style playing, but it's coming along.
A little off topic but one cool chord I figured out from watching Lage Lund video on YouTube was a cool new way to play a D-9/11 chord, check it out and share your thoughts on my facebook page.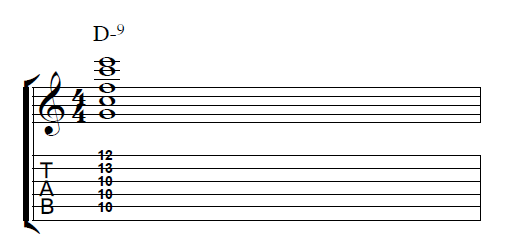 Check out my previous enteries from the series by clicking here.
What have you been practicing this week? Share your thoughts in the comment section below.