Gig Review: A Transatlantic Jazz Guitar Special
It's no surprise to walk into a jazz gig and hear a noisy, disrespectful audience chatter over musicians performing. Tonight, however, was different.
In a small old-fashioned real ale pub in Huddersfield, a quiet audience had gathered together to witness American jazz guitarist Howard Alden, perform with England's own Adrian Ingram. The two guitarists were joined by the young Mike Monument on bass and Andy Wallis on sax.
The set kicked off with an enjoyable rendition of Parker's classic blues 'Billie's Bounce'. Andy's pleasant and mellow tone complimented the warm sound of the two guitars creating a relaxed and swinging atmosphere that set the mood for the rest of the gig.
One highlight was an up-tempo quirky harmonization of 'Bernie's Tune' where instead of taking individual solos, Howard and Adrian traded lines together which was like two old friends exchanging conversation.
Howard engaged the audience with a blistering solo rendition of 'Nagasaki', and a beautiful obscure Barney Kessel ballad, 'I Remember Django'.  The low 'A' string on his custom 7 string Bendetto filled out the sound wonderfully.
Before inviting the full band up again, Howard and Adrian played a duet; Jerome Kern's 'Yesterdays'. Or at least I thought it was, until Adrian (who was playing the tune) introduced the theme of the appropriately titled 'Alone Together' a few bars after.
Adrian's bop and blues based licks combined with Howard's laid back melodic playing catered for all tastes. What more could a jazz guitar fan ask for?
Check out the audio recording of 'The Way You Look Tonight' from the gig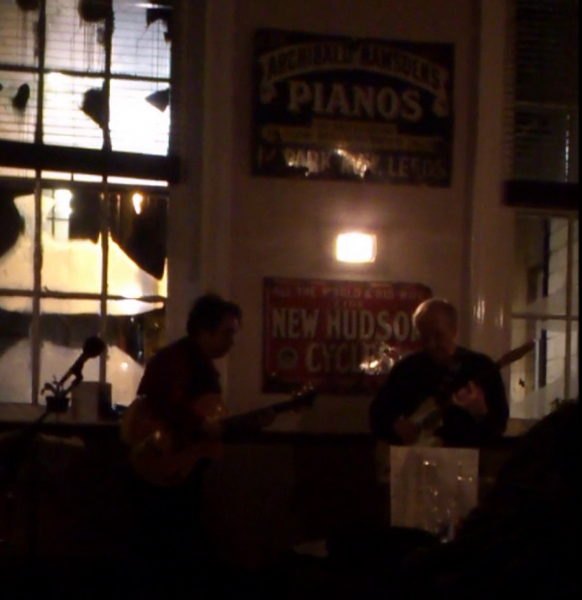 Howard and Adrian duetting
       Set List
Billie's Bounce
My Romance
Scrapple From The Apple
Wave
In A Sentimental Mood
The Way You Look Tonight
On The Sunny Side of The Street
Yardbird Suite
Bernie's Tune
Solo Guitar Medley
Alone Together
Making Whoppee
Caravan