FAQ
I appreciate, read, and try to reply to every email, message, and comment I receive across my different social media platforms.
However, I do get the same messages sometimes so I have listed the most popular FAQ below.
I occasionally host question sessions on  my Facebook Page in which you can ask me anything related to the guitar and get an instant reply.
Live YouTube sessions and forums are also something I am considering for the future of Jamie Holroyd Guitar.
Please allow up to 48 hours for me to reply to an email before enquiring again.
Thank you all for donations, encouragements, and supporting Jamie Holroyd Guitar.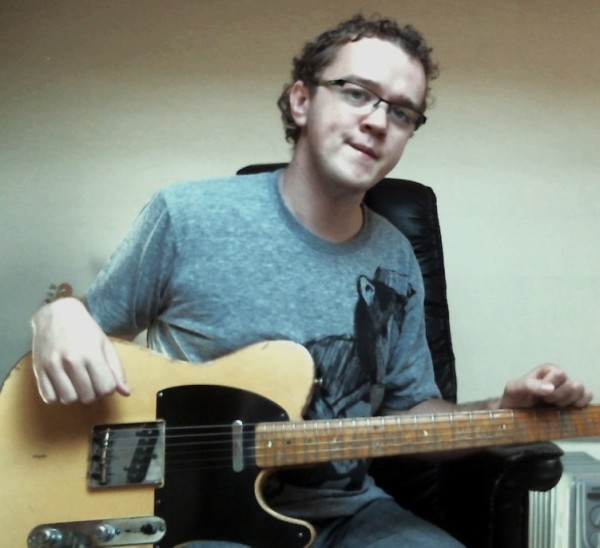 I am new to jazz guitar. Where should I start?
I published an in depth eBook called 'Introduction to Jazz Guitar Improvisation' aimed at guitarists who are new to jazz guitar that would like to learn about single line sololing.
Since publishing the eBook I had had a lot of positive response from guitarists all over the world saying that the material is clear and easy to follow.
If you want to learn how to play solo jazz guitar or learn jazz guitar chords you might want to look at '30 Days to Better Jazz Guitar Comping'.
Of course, I also welcome students who want to take lessons over Skype too.
I bought one of your eBooks but I can't download it anymore. What do I do next?
Thank you for purchasing my eBook and sorry for the inconvenience.
Please send me an email or reply to the e-junkie message and I will send you a fresh link so that you can download the eBook again.
Can I purchase one of your books without becoming a PayPal customer?
Yes, you can pay with a credit card or debit card on PayPal and not have to register.
You just need to sign in as a guest that's all. Failing that there are other services such as Western Union or Moneygram.
Are you books available in hard copy?
Not at the moment, but you can download the PDF eBooks and audio examples onto your iPad/tablet or print off sections as you need them.
I want to learn this lick/solo off a YouTube video or mp3 recording. Can you transcribe it and teach me how to play it?
Yes, this can be done in either two ways. I can notate/tab what you want to learn out and/or I can also make you a custom downloadable HD guitar lesson with close up shots.
This cost of this will depend on what exactly you want to me to transcribe. Please contact me for a quote.
Do you have any free slots in your Skype schedule and how much would a Skype lesson cost in my currencey? 
Yes, send me an email to arrange a time and what you would like to learn.
You can google the price of the Skype lesson in your currencey.
For example if you wanted to take a 30 minute Skype Guitar lesson and you are from the UK, just google "25 dollars in pounds".
I am busy with this, that and the other. Can I take lessons bi-weekly or monthly?

Yes. In fact most of the students I teach have lessons every two weeks.
One or two actually only have lessons once every few months, but I recommend at least once every two weeks.
What are those telescasters are in your pictures and videos?
My favorite guitars in terms of practicality and tone are telecasters and I currently own three of them.
From left to right there is an all original 1974 Fender Tele, a handmade Crinson and finally a 20 year old partsocaster with SD Alnico ii pickups.
I also sometimes use a Japanese sunburst Strat with GFS pickups.
What amps do you recommend and use in your teaching videos?
I have owned and used more amps than I care to admit over the years, but I only use small tube and jazz amps at present.
For my early YouTube videos I used a ZT Lunchbox, but around November 2012 I started using a small hand built Mambo Wedge which can be heard in this video.
In the summer of 2013 I started using a Polytone Megabrute amp and a modded Fender Pro Junior.
How do you get a blues tone and what pedals do you use?

I like to keep the guitar's volume on full and back off the tone so it's almost totally off. Reverb is also a big part of a good electric blues sound.
There's nothing quite like an old Fender reverb tank, but they are heavy and require a lot of maintenance so I just use a Boss FRV-1.
Occasionally I'll use the Digitech Bad Monkey to add some crunch, and some delay from my Boss pedal.
What is that archtop in your YouTube Guitar Lessons?
As much as I love teles there is nothing like a good archtop. The archtop on all my videos is a 100% original 1959 Gibson ES-125 with a single P-90 pickup.
Can I write a guest post on your website?
Yes, please send me an email and we can arrange something. Please send all lessons as PDF's or word files with an accompanying image and short description of yourself.
Articles should be between 300 – 2,000 words. I welcome and encourage the use of audio and video files too.
Do you teach other styles of music?
Yes, besides writing and recording online jazz and blues guitar lessons I teach many private students rock, finerstyle, and pop guitar styles.
I am not really much of a chicken picker, shredder or classical guitarist, but I should be able to help learn or at least get started with most styles of music.
Many students I teach aren't sure what they want to learn at first, so I can also make the lessons varied so that they cover different guitar techniques.
I sent you an email, why haven't you replied?
I try to reply to every email I receive as soon I get them. Please allow up to 48 hours for me to reply to an email before enquiring again.
I sent your personal Facebook account a friend request. Why haven't you accepted?
Sorry but I only accept requests from friends, students and online friends that I have actually only spoken to. Please connect with me on the Jamie Holroyd Guitar Facebook Page.
Do you play local gigs?
I mostly play private function gigs, but I do occasionally play jazz festivals, concerts and tours.
Every gig is announced in advance either on my Jazz Guitar newsletter or Facebook Page.