4 Great British Jazz Guitarists You Need To Know About
As a follow up to the '4 Obscure Jazz Guitarists You Need to Know' article I published a few months ago I have decided to write an article on 4 great British jazz guitarists that international readers might not be aware of.
Don't worry there's still plenty of great lesser known classic jazz guitarists that I want to write about, but as a British guitarist myself I've had the pleasure of meeting and playing with some fantastic musicians that are worth knowing about.
Having played at many of gigs and jams over the years, I've met dozens of fantastic players and it would take would take me forever to write about all of them, therefore this entry will focus on the guitarists who mainly play in the straight ahead classic jazz guitar style.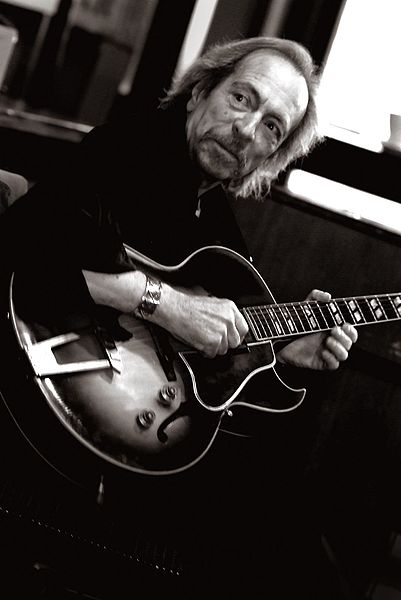 British Jazz Guitar Legend Terry Smith
Louis Stewart
When it comes to great Irish guitarists, the rockers have Rory Gallagher and the jazzers get Louis Stewart. Although Louis is based in Ireland, he has developed an international recognition as a respected jazz guitarist.
Because Louis rarley plays in the UK I've never met or played with him, but I've acquired many of his LP's and CD's over the years. 'Louis the First' is a much sought after out of print vinyl featuring some of Louis finest playing, although Louis himself passes it off as a demo because he never got paid for it!
Luckily there is a wide range of videos of Louis on YouTube that span his entire career, ranging from black and white footage of his early days with Benny Goodman to professionally filmed jazz guitar duet performances with Mundell Lowe and great solo guitar performances that showcase Louis master chordal chops.
The interesting thing about these videos is that they show the strong influence of different jazz guitar greats throughout Louis career such as Pat Martino, Jim Hall and Kenny Burrell. Check out the early clip below of Louis playing with Benny Goodman showing off a strong Kenny Burrell influence.
Louis is an archtop guitar enthusiast, usually seen with a variety of different big bodied Gibson and Guild archtop that producing a thick warm jazz guitar sound.
Adrian Ingram
Readers of this website will probably be aware of Adrian already as he has contributed a lot of information for the articles on this site and is a mentor and inspiration of mine.
Internationally recognized as player, writer and teacher, Adrian has contributed to jazz guitar extensively over the years. Adrian was one of the founders of the popular Just Jazz Guitar Magazine and has written for many guitar magazines and publications over the years, but one of his most famous publications and acclaimed is the definitive biography of Wes Montgomery.
Although Adrian is an endorsed Bendetto player and has acclaimed publications on Gibson jazz guitars (335, 175, L5), he is usually found his playing western swing on telecasters in real ale bars, so if jazz, telecasters and good beer is what you're into, check him out.
Adrian's playing draws from a diverse range of guitar heros. On any given gig, Adrian can go from playing like Les Paul to Wes Montgomery by adjusting his technique and controls. Despite being able to emulate different guitar greats, Adrian remains a strong blues and hard bop player in his own right.
Dave Cliff
Dave Cliff has been a prominent figure on the London jazz scene for over 40 years now and has developed a strong reputation as a teacher and player.
Like myself, Dave once studied at the Leeds College of Music in the late 60's with Bernie Cash and Peter Ind. Upon graduating, Dave moved to London and has since performed with many American jazz greats such as Warne Marsh, Lee Konitz, Nina Simone, Warren Vache, and Scott Hamilton.
Jazz guitar fans are in for a treat because Dave has a couple of albums available that he recorded with jazz guitar great Howard Alden on the Zephyr label which feature a healthy dosage of fine jazz transatlantic guitar playing.
Although Dave owns a nolan period Gibson 175 which he bought new in the early 70's, he usually plays cheaper guitars on gigs, most notably his Squier Bullet Strat with a humbucker in front proving that tone is in the fingers and not the gear.
Being a big Wes fan, Dave sometimes uses his thumb, but Wes biggest influence in Dave's playing can be heard in his strong laid back swing feel.
Pat McCarthy
Over on the East Coast one jazz guitarist that always I enjoying listening to is Pat McCarthy. Pat has played with many of the UK's leading jazz musicians and is involved with running the Grimsby Jazz club. Influenced by Wes, Django, and Barney, Pat is one of the best at capturing the sounds of the classic jazz guitarists.  I've only ever seen Pat play an old black ES-150 which seems to be his number 1 guitar.
Check out the video of him bellowing performing an accomplished solo guitar version of All The Things on his old Gibson archtop.
Jim Mullen
To keep this article geographically interesting, the next guitarist is the great Scottish jazz guitar legend Jim Mullen. One aspect of Jim Mullen's playing that separates him from the other guitarists in this article, is that like the great jazz guitarist Wes Montgomery, Jim plays exclusively using his thumb.
Because Jim uses his thumb, his right hand technique is limited so he uses an abundance of guitar techniques such as hammers ons, pull offs, sliding and bending which results in smooth saxophone-like phrasing.
Like Dave Cliff, Jim isn't into higher end gear and plays an Aria archtop through a small AER amp.
I've seen Jim live a few times and had the pleasure of playing with him at the Leeds College of Music. While his playing blew me into the ground, I learned a lot from his workshop and playing, and admired his gesture to the audience for applause after my solo before commencing his own.
Terry Smith
If you were playing guitar in the 60's and lived in Britain you were most likely absorbing a healthy cocktail of blues, jazz and rock n roll when it was fresh on the scene. Terry Smith is one of the finest British guitarists of this generation and mixed these styles in the fashion of American greats Grant Green and Wes Montgomery.
Having only discovered Terry recently thanks to jazz guitar historian Adrian Ingram, I am still tracking down as many recordings of Terry as I can find, but one CD that I have been listening to on almost a daily basis at the moment is Fallout.
From what I know Terry is still performs around London to this day, but has little to no internet presence. Luckily the liner notes to his album 'Fallout' are well written and include personal notes from Terry himself sharing stories about his career.
Terry has remained fond of the Gibson ES-330 aka the Grant Green guitar throughout his career and his Fallout album showcases some of my favourite recorded sounds of the instrument.
Other British Jazz Guitarists
Writing about all the great British jazz guitarists would take numerous articles, but I hope you have enjoyed reading and listening to some of the guitarists who have influenced my playing.
Some other great British jazz guitarists who deserve a mention are Trevor Owen, Ike Issacs, Mike Outram, Chris Walker, Colin Oxley, Mike Walker, Phil Robson, Gary Potter, and Martin Taylor. Of course, I can't forget some of the greats I studied with such as Jamie Taylor and Pete Skraloff either. If there's enough interest I'll write a follow up article on these great guitarists.
Who are some of your favourite British jazz musicians? Share your thoughts in the comment section below.