Billy Bean Bebop Workout
Regular readers of my website might recognize Billy Bean from the'4 Obscure Jazz Guitarists You Need to Know' article published last year. If you haven't read this article yet, you can find out about Billy Bean and 3 other lesser known jazz guitarists by clicking this link.
In short, Billy Bean was a fluent bebop jazz guitar player who's influence can be heard in other great Philadelphia jazz guitarists such as Pat Martino and even Kurt Rosenwinkel.
Besides being a great a soloist, Billy Bean also composed fantastic bebop workout tunes, and for an upcoming guitar duo project I decided it would be great to play one of his tunes called 'Fat Feet'.
Upon noticing there wasn't much Billy Bean theme's available online, I decided that some other jazz guitarists would like to have a go at getting their fingers round this workout. This article has a lead sheet for 'Fat Feet' as well as a few of his licks.
Fat Feet Lead Sheet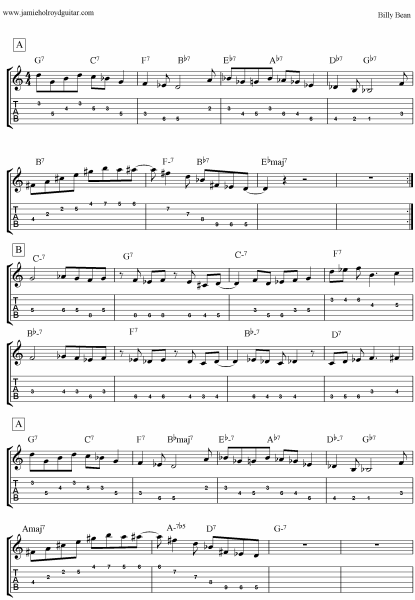 As you can see, the chord progression isn't exactly Take The A Train, but it provides a great workout to stretch out on your bebop jazz guitar chops as well as improve your jazz guitar comping.
Check out the video below for an audio example of this chart. Billy Bean recorded this tune a couple of times with different line ups and changed the A section melodies slightly each time, and the B section completely.
This version is taken from his duo kitchen session with John Pisano from the late 1950's as heard below.
Fat Feet Audio
http://www.youtube.com/watch?v=yc0sU7hjOto
No doubt about it, this tune is a tough one to blow on, especially the first 4 bars. Here's a cool lick from Billy's solo to get over the tricky changes.
Billy Bean Lick

I hope that you enjoyed this lesson on how to play one of my favorite Billy Bean tunes. Even if 'Fat Feet' doesn't make it into your set list, it's still a great tune to have a burn on from time to time. What's your favorite Billy Bean tune? Share your thoughts in the comment below.