9 Must Know Electric Blues Instrumentals
Besides been great to listen to for leisure purposes, blues instrumentals are excellent pieces to learn for the studying blues guitarist.
Blues instrumentals feature great licks, comping patterns, and interesting arrangements that can break your set up as well as provide a challenge.
These particular blues instrumental tunes are my personal favorites and ones that I feel like have a good structure and catchy themes.
Blues influenced rock guitarists such as Jimi Hendrix and SRV also wrote excellent blues based instrumentals as did the country blues artists.
So to narrow down the choices the blues instrumentals in this article are all by and/or feature electric blues guitarists.
Before anyone messages me, I didn't forget to include Hide Away! I just prefer some of Freddie King's other instrumentals.
The Fabulous Thunderbirds – Extra Jimmies
The first couple of Fabulous Thunderbirds albums are essential listening for any serious blues guitarist and often considered to be some of the best recorded 'white' electric blues music of all time.
Jimmie Vaughan was the guitarist featured on these early records and his playing is showcased in top form on 'Extra Jimmies'.
'Extra Jimmies' is a fast swing 12 bar blues in the key of B that comes from the 'What's The Word' album.
Jimmie Vaughan had a totally different approach to playing the blues than his brother Stevie Ray.
You'll very rarely hear Jimmie take endless choruses of solos – he likes to keep things direct and to the point.
Pay special attention to Jimmie Vaughan's funky off beat licks and comping patterns. This is trickier to play than it sounds!
http://www.youtube.com/watch?v=XPIQcFRWpNw
Freddie King – The Stumble
This entire list could have easily comprised of Freddie King blues instrumentals.
But the 'The Stumble' made the article because it contains an interesting blues chord structure, a nice mix of chords with single lines, and some great aggressive bending techniques.
Unlike most blues instrumentals, The Stumble is a 16 bar progression in the key of E that starts on the IV chord (A7) instead of the I.
Check out the diagram below for the entire chord progression and song structure.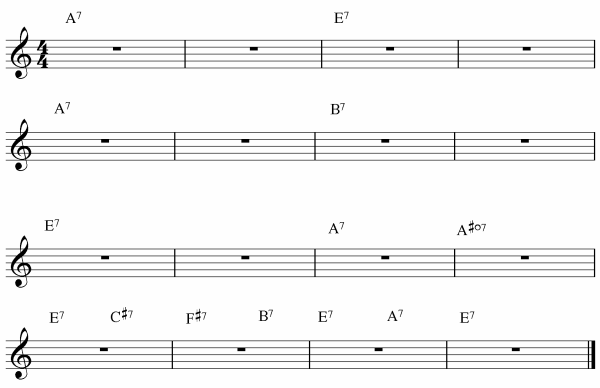 Freddie King released a fully instrumental record called 'A Bonanza of Instrumentals'.
Although this album doesn't contain the 'The Stumble', it is well worth checking out and perhaps the only album that consists of only blues guitar instrumentals.
Harmonically speaking, the majority of the leads in the Stumble are coming from the major pentatonic scale.
Pay close attention to the tricky 6th intervals (around .25 seconds in). Freddie King often used 6ths and in they can be heard in the breaks of 'Hide Away'.
Remember to play them slowly at first before working up to speed.
Buddy Guy – Buddy's Boogie
Early on in his career, Buddy Guy recorded some excellent material for Chess that is often overlooked in favour of his new releases.
One of my favorite takes from the Chess session is a 12 bar blues in G called 'Buddy's Boogie'.
Buddy's Boogie features a strong and catchy repeated hook played in unison with baritone saxophone.
The theme starts with a perfect 4th interval. When playing the opening line, play every note on the same string to have a smoother, more sax-like tone.
While quite a short solo (at least in jazz terms), Buddy Guy's solo has excellent drive and rhythmic ideas which are backed up nicely with sax stabs.
Magic Sam — Sam's Boogie
It's amazing how great musicians can retain an audience's interest through just playing a few notes, or one just one chord with great time and groove.
'Sam's Boogie' is a 1 chord Boogie-Chillin' esc blues instrumental in the key of A showcasing Magic Sam's Fingerpickin technique and unique distorted tone.
Luckily, there is live footage of this blues instrumental available on YouTube so we can see exactly how Magic Sam plays it.
For whatever reason he was actually borrowing Earl Hooker's guitar in this clip!
The Wes Montgomery style octaves Magic Sam uses around 56 seconds and are effectively used to mark the end of his solo section before the band come in.
This blues instrumental really is a 'blues riffs in the key of A' master class.
T-Bone Walker – Strollin With Bones
Mostly known for the blues classic 'Stormy Monday', T-Bone Walker recorded a handful of great blues instrumentals that well worth checking out.
Strollin with Bones is chief among them and it allows us to hear T-Bone burning with a full big band horn section backing.
While I am sure most of us don't have the regular oppertunity to be the lead guitarist in a big band situation, I couldn't help but include one big band piece in the list.
Strollin with the Bones is in the jazz blues key of Bb and T-Bone's solo contains an abundance of classic licks used by players such as Chuck Berry.
Hollywood Fats — Fred's Blues
Many of today's current electric blues guitar players such as Kid Ramos and Junior Watson are heavily influenced and even worked with the late great Hollywood Fats.
While I do need to write more about him on this blog I did include his great 'Rock This House' lick in my blues riffs guitar lesson.
Fred's Blues is a relaxed and swinging 12 bar blues in the key of A with guitar and piano playing the melody in unison.
Hollywood Fats plays the melody by sliding into common blues guitar chord shapes.
This almost sounds like something you'd hear on a Kenny Burrell/Jimmy Smith record and brings out a different site of Hollywood Fats guitar playing.
Another great instrumental from the same album is the great take on the classic 'Okie Dokie Stomp'.
Earl Hooker – Earl's Boogie
Like Freddie King, Earl Hooker recorded many great blues instrumentals and for this article I included the one for which we have live footage of – Earl's Boogie.
There doesn't seem to be a definite theme to Earl's Boogie, but Earl makes up for this in terms of showmanship, feel and conviction.
This short clip is a fine example of single line blues guitar playing.
Earl Hooker plays with great attack, tone and taste (and even his teeth!) while coaxing a wide range of different tones from his Les Paul.
Note that he quite often picks near the bridge of the guitar for a twangy and biting blues tone.
Pee Wee Crayton – Blues After Hours
One seriously under looked blues guitarist is Pee Wee Crayton.
Though not well known to most blues fans, I can hear a big influence of his music in the current line of electric blues guitar players.
In some ways Pee Wee played like T-Bone but usually with a more biting and aggressive tone and feel.
Besides been a great single line player Pee Wee also had a well rounded knowledge of using jazz chords in blues situations.
Pee Wee often start songs with a big band like chordal intro's which sound particularly effective with his thick distorted guitar tone which is more evident when you hear him 'dig in'.
Blues After Hours is used as my example here, but Pee Wee also recorded several other blues instrumentals such as Guitar Boogie and After Hours Boogie.
Kenny Burrell – Chitlins Con Carne
No list of blues instrumentals would be complete without mentioning at least one instrumental from the iconic jazz/blues guitar album 'Midnight Blue'
Chitlins Con Carne has been covered by jazz and blues musicians, and while it may be too jazzy for some blues guitarists I still feel it deserves a place here as it helped me discover jazz guitar.
Chitlins Con Carne is a latin flavoured blues composed by Kenny Burrell.
The melody comes from the minor pentatonic scale and contains a dozen of Kenny's signature, slides and slurs.
This is also a great blues instrumental theme to learn for those working on combing chords with single lines.
Other Blues Instrumentals
Writing about every great blues instrumental would make a long and boring article, but there are a few other instrumentals that I feel I have to mention.
One is 'Boogie Uproar' by Clarence Gatemouth Brown and other is 'Lucky Lou' by Jody Williams.
I hope this article has inspired you to learn and check out some blues instrumentals and maybe even some blues guitarists you haven't heard of.
If you are still craving some more blues guitar instrumentals here is a great lesser known tune by hammond B3 player Hank Marr featuring Freddie King on guitar.
What are some of your favorite electric blues instrumentals? Share your thoughts in the comment section below.