4 Obscure Jazz Guitarists You Need To Know About
When it comes to learning and playing jazz guitar there are certain players that are hardly obscure jazz guitarists and mentioned frequently for good reason.
As much as I enjoy listening to the jazz guitar greats everyone knows I can't help but think there are certain jazz guitarists that never get the recognition that they deserve, some might call these 'musician's musicians'.
I always end up discussing these guitarists with other jazz guitar enthusiasts so hopefully this article will provide a good resource to find accurate information and examples of their playing all in one place.
I must thank jazz guitarist educator and historian Adrian Ingram and for providing me with recordings and information about these great players and Ian Wroe for converting old cassettes and LP's.
Had it not being for this help I would not know half as much about these fantastic guitarists.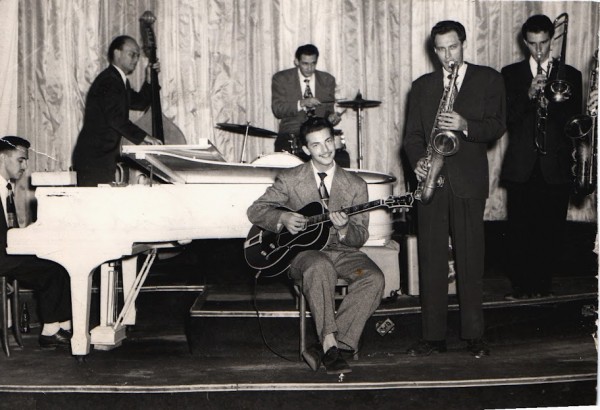 One of the only photographs in existence of Ronnie Singer
Ronnie Singer
"Jimmy Raney, Ronnie Singer and me were always hanging around together in Chicago in the 40's; Ronnie was really the best of us!" – Jimmy Gourley
To begin this article I'll be discussing one of the most tragic examples of jazz guitar.
The only recordings that remain of Ronnie are old live bootlegs recorded by Jimmy Gourley in New York from the 1950's.
Although the quality of these takes isn't too clean, they provide us with an excellent opportunity to hear Ronnie stretch out taking long bebop-filled jazz guitar solo's on standards such as All The Things You Are, Shine, Donna Lee, and Tea for Two in a live quintet setting.
Only a few of these tunes are available online but I am luckily enough to have the full CD conversion of an old tape that Adrian Ingram received from jazz guitar legend Jimmy Stewart.
Gear wise, Ronnie played an older model ES-150 fitted with a Charlie Christian pickup through a small slightly overdriven Gibson amp producing a fantastic creamy jazz guitar sound.
Like other more well known bebop guitarists of that era such as Jimmy Raney and Tal Farlow, Ronnie was one of the first jazz guitarists to adopt the bebop language from the saxophone onto guitar but did so and a very personal and distinctive manner which set him apart from his contemporaries.
Ronnie's influence can be heard in other prominent jazz guitarists, especially in the recordings of Hank Garland.
Sadly Ronnie was a big heroin addict and he and his wife committed suicide by asphixia in a gas oven when he was only 24 years old.
Check out this video for an audio example of his playing:
Bill Dillard
Unfortunately Bill Dillard is the jazz guitarist I know the least about which is a shame because he only recorded one album called 'Nocturne' (of which less than 100 copies were made) and it's is one of the most interesting jazz guitar records I've ever heard.
This record showcases Bill Dillard's dynamic and unique playing in an intimate setting with the unusual line up of guitar and cello accompanied with a steady but solid rhythm section.
One thing that's for sure is along with other jazz guitarists who Dillard actually influenced such as Tal Farlow, Jimmy Wyble, and Jimmy Raney Bill was once held the guitar chair in Red Norvo's band.
Unfortunately Bill died when he was only in his early 20's in a fire.
Check out this audio example of Bill's playing: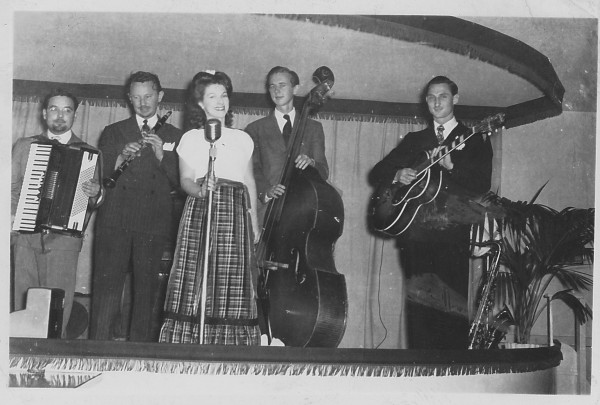 Thanks to Bill's nephew Ron for providing this picture of Bill who is on the right
Billy Bean
Unlike the first two guitarists in this article Billy Bean lived a much longer life (1933 — 2012) so there is considerably more information and recordings of the guitarist, he even has a song wrote after him by the Great Guitars.
An avid fan of the two guitar line up Billy Bean recorded a handful of albums with fellow guitarist John Pisano in the 50's which still set the bar high for the jazz guitar duo line up, and in the words of Adrian Ingram "has yet to be supassed".
I would recommend any of these albums to jazz guitarists, but my personal favorites are 'West Coast Sessions' and 'Making it Again'.
All Bean's compositions have a good quirky nature and his solo's consist of fluid bebop lines executed with great feel. I think of Billy Bean as the 1950's version of Pat Martino, indeed Pat has mentioned him as an influence on the liner notes to his 'Strings' CD saying "I used to listen to Billy a lot and loved what he played."
Check out this video featuring an original composition from one of his classic records
Dick Garcia
Like Billy Bean, Dick Garcia didn't pass away when he was young as the first two jazz guitarists did.
Dick Garcia is actually still alive today, but keeps a very low profile and is still not known by many jazz guitarists.
Dick Garcia played, toured and recorded with a handful of famous jazz musicians such as Charlie Parker, George Shearing, and Joe Puma, but perhaps his most recognized piece of work is his album 'A Message From Garcia'.
Featuring a young and not very well know at that time Bill Evans on piano, 'Message From Garcia' provides a fantastic outlet to hear Dick Garcia at his best.
Garcia has that wonderful snug, warm but too muddy classic 50's jazz guitar sound that has influenced countless jazz guitarists.
As much as I love Garcia's playing over burning standards, its ballads where he truly excels.
Flawless double time lines combined beautiful melodic playing make for the perfect listening recipe.
Check out this recording of him playing the classic Jimmy Van Heuson tune and you'll hear what I mean.
http://www.youtube.com/watch?v=cY1wckvMEK8
Some other under rated jazz guitarists that are also well worth checking out are Ernest Ranglin, Jimmie Rivers, Billy Bauer, Chuck Wayne, Sal Salvador, Cal Collins, and Oscar Aleman.
I might eventually write a secound part to this article discussing these players and other lesser known jazz guitarists.
I will try to update this article with more information about these fantastic obscure jazz guitarists as I collect more information in my research.
I hope this has been some use to you if you have been trying to track down information about these jazz guitarists or if you are just looking for some new jazz guitar inspiration.
Who are some of your favourite lesser known jazz guitarists? Share your thoughts in the comment section below.