30 Days to Better Jazz Guitar Comping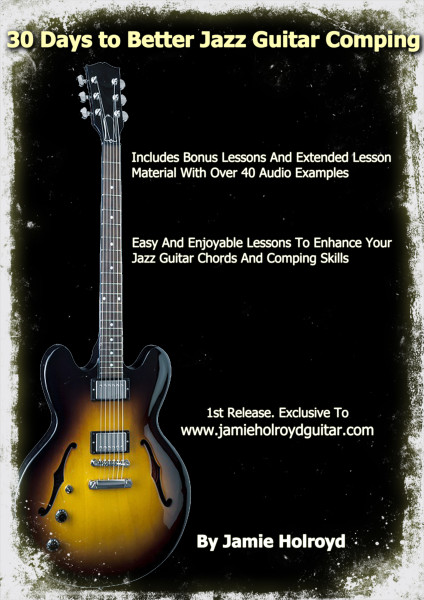 Developing a strong comping and chord vocabulary is just as important as learning licks and scales. But with there been so many chords and comping techniques, knowing how to study them effectively can be tough.
With many books simply just being a thesaurus of chords with little to no application or explanation, it leaves most guitarists confused, resulting in them forgetting half of the chords learnt on the first page by the time they get half way through the book.
Because of this, I decided to put together a 30 day project in the summer of 2012, where each day for 1 month I posted a range of lessons covering many different comping and chord techniques.
Although, this was only a 30-day project, the aim was to give jazz guitarists a thorough understanding, application, and dictionary of chords and comping techniques to open up their ears and minds to new possibilities on the instrument, as well as provide practical material that guitarists can use after the month is over.
After running this series in the summer of 2012 and getting an extremely positive response and comments about the lessons I was encouraged to put together an ebook based on the series so that each lesson can be bought for for the low price of $14.99 US which is less than 50 cents per lesson.
The book features all of the original 30 lessons, all of which have been expanded and edited. There's more than 20 pages of extra material and explanations, as well as accompanying audio and bonus lessons that have never before been published on the this site.
"Every guitarist should enjoy comping as much as soloing".  — Joe Pass
When Buying This Ebook You Get
Over 40 Audio Examples to Accompany Etudes and Examples
Printable and Clear PDF Format
A Chronological Order of Lessons
The 30 Original Lessons With Included Expanded Bonus Material
Over 20 New Pages of New Material
3 Bonus Lessons Not Available on This Site
Learning Resources and Material to Keep You Practicing For Months
All for less than 1 Dollar Per Lesson!
Click Here to View A Few Sample Pages of 30 Days to Better Jazz Guitar Comping
Download 30 Days to Better Jazz Guitar Comping Now
You can buy the 30 Days to Better Jazz Guitar Comping eBook for the introductory price of $14.99 US through the secure site below.
This introductory price will not last forever so grab a copy now!
Payments can be made through Paypal with either a money transfer, Debit Card or Credit Card, or if you don't have a Paypal account you can sign in as a guest and use your debit or credit card to make things quick and easy.
To Pay With a Credit or Debit Card Just Follow These 3 Easy Steps
Click "Add to Cart"
Click "Checkout With Paypal"
Click "Don't Have a Paypal Account" (Then enter your information)
Once your payment is processed, you will instantly receive a link to download the ebook, it's that easy.
If you're looking to better your jazz guitar chords and comping are searching for new resources, lessons, inspiration and motivation for the woodshed buy "30 Days to Better Jazz Guitar Comping." For much less than the price of a single guitar lesson you get a lifetime's worth of material to practice.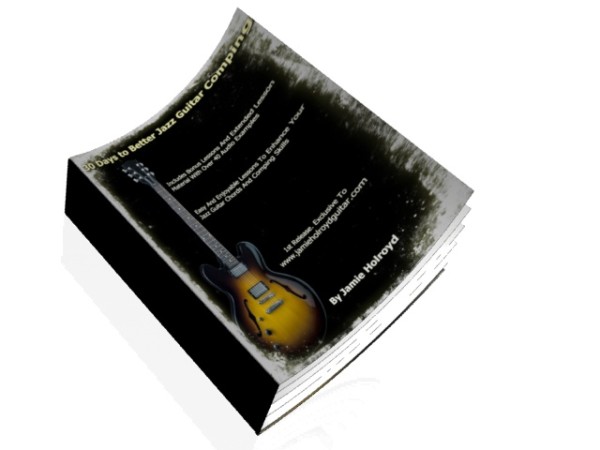 Lesson Topics Include
Practicing Jazz Chords
Triads
Chord Construction
Shell Voicings
Drop 2 Chords
Drop 3 Chords
Dominant 7b9 Chords
Jim Hall Diminished Chords
4th Voicings
Quartal Etude
Close-Position Voicings
Major II-V-I Comping
Minor II-V-I Comping
The Charleston Rhythm
Chord Synonyms
Four to A Bar Style Comping
Chord Soloing
Chord Licks
Blues Chord Solo Etude
Combing Chords and Single Lines
Solo Guitar Arranging
Inner String Movements
Bossa Nova Comping
Comping with Bass Lines
Walking Bass Line Etude
Jazz Guitar Intros
Jazz Guitar Endings
Rhythm Changes Comping
Rhythm Changes Etude
I-VI-II-V Variations
Learning Chord Progressions
Right Hand Jazz Guitar Techniques
Jazz Guitar Comping Tips
What People Are Saying About 30 Days to Better Jazz Guitar
"This book is great for someone who is comfortable playing rock and blues type stuff, but has been intrigued with all those strange jazz chords. Or maybe you find yourself digging some stuff that turns out to be labeled "jazz", but thought it was way beyond your skills when you first attempted to learn it. ("How the hell do I play a G7b9b13 chord!?!")
I found the progression of the lessons built logically upon one another. And I was finding myself learning something with almost every lesson, even those that covered stuff I thought I already knew. But though the concept and basic examples of each lesson can be understood within one practice session. Most lesson will require a good deal more time to get to the point where you truly know the material and can apply it. But this is true of any method of learning jazz guitar. Jamie's, lesson a day approach does help make the whole topic seem a lot less overwhelming, and makes it easy to set your own pace." – Guitarify
"Wanted to give a HUGH Thank you to Matt and Jamie, for the recent eBook… briefly read through 30 Days to Better Jazz Guitar Comping, and I must say it is very impressive… quite a lot of fantastic information covered within it's pages. Looking forward to diving deeper into it over the next few weeks. Thanks again Matt and Jamie… and if any of you are on the fence about purchasing 30 Days to Better Jazz Guitar Comping, definitely make that purchase, you will be very, very, happy you did!" – Scott F