Guitar Practice Routine Week 3: 3 over 4 Polyrhythm Workout
The third week in my practice schedule proved to be my most effective yet due to some 3 over 4 polyrhythm and 4 over 3 workouts.
I've started to notice big improvements in my playing after staying back at college a few nights a week to get some focused practice done with no distractions.
While it would be a very long and boring article to list every single thing that I have been practicing I've decided to share the most interesting stuff that you can use to expand your jazz guitar chops. The rhythmic etudes in today's lesson were shown to me by the great jazz guitarist Jiannis Pavlidis
3 Over 4 Etude
As readers of this series will know I have been working hard on making my time and rhythm stronger by practicing triplets in various ways and polyrhythms over the past few weeks.
To complete my study of implying 3/4 over 4/4 I put together an etude that was demonstrated to me in my one to one lesson.
This etude uses the same chord progression as 'Someday My Prince Will Come', but this is in 4/4 time with 3/4 being suggested by the rhythms written.
Although tunes in 3/4 are not normally played in 4 on a gig, it's still benefitial to practice tunes in different time signatures so that you have a good command over them.
Practicing tunes in different keys, time signatures and with different time feels is a great exercise to make you a stronger player.
This short etude demonstrates this 3/4 over 4/4 technique over the first half of the tune, but it should be practiced over the entire progression.
Someday My Prince Etude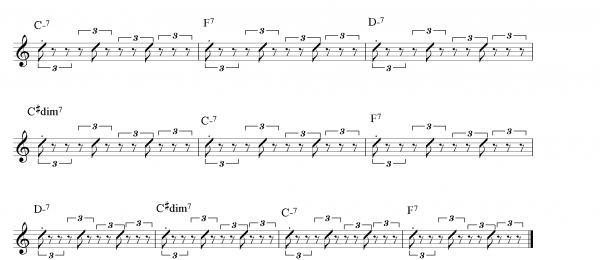 4 Over 3 Workout
After I felt comfortable with the etude I started to look at playing 4 over 3.
Instead of sub dividing in triplets, this time I had to sub divide in sixteenth notes and accent every third note that results in the following:

Having not practicied strict 16th notes in 3 before I wanted to break down this exercise into smaller chunks to get the most from it by working on accenting different 16th notes within the bar first.
The following example shows each bar being practiced by itself with different accents, first with solid 16th notes, then with only the accented ones.


Once these rhythms felt rock solid I then began to apply chords to them.
At first I just played one chord to get comfortable then I wrote out this etude using the same chords as 'Someday My Prince Will Come' as with the first example.
Again, I've only used the first few bars from the progression but it should be practiced over the entire progression as well as over other tunes.

Pat Metheny Project
After a lot of consideration I have finally decided and agreed upon a minor jazz guitar project that will be focusing on jazz guitar legend Pat Metheny's legendary album 'Bright Size Life'.
Over the last few years Pat Metheny has become one of my favorite jazz guitarists, so I am really looking forward to learning his music and transcribing his solo's which will no doubt end up in a Tune Study or Play Like The Greats article.
The first tune I am working on from this album is the title track 'Bright Size Life' .
I used the slash chord chart from last weeks article to dissect the harmony and I am now starting to feel comfortable improvising over it after realizing how functional it actually thanks to the help of my minor teacher JT.
The next step is now working on the tricky melody which was initially written as a technical exercise.
This will be a fun project, some of the tunes are quite tricky but I am looking forward to getting a band together and playing this music.
For those that have not heard it yet here's the title track from the album.
http://www.youtube.com/watch?v=RX2cPUs-ot0